It's no secret that online sales are on the rise globally, with a recent study expecting them to account for over 22% of all retail sales by 2023. Predictions like this have caused retailers and fashion brands to increasingly invest in and prioritize online sales programs. One of the predominant ways brands do this is through so-called "social commerce:" the integration of commerce with social media.
Social commerce engages customers directly and drives sales for your brand. In this blog, we will explain why social commerce is a crucial component of any successful retail strategy today, and present proven social commerce strategies that help retailers boost revenue and increase brand awareness.
What Is Social Commerce?
Social commerce refers to the use of social media platforms in eCommerce transactions. Specifically, it is when retailers sell products directly through social networks: users have the ability to checkout directly from the platform, rather than be redirected to a separate site. In this sense, it differs from traditional social media marketing.
Social commerce is a two-way street: retailers can turn social engagement directly into conversions and sales, while consumers benefit from a richer social media experience. It's the latest innovation for direct-to-consumer (D2C) channels, in which brands sell directly to shoppers and bypass negotiations with a reseller.
Why Is It Important?
Social media platforms like Instagram and Facebook have emerged as the new go-to place for discovering new products: a whopping 60% of Instagram users today say they find new products on the site. These sites, among other social networks like TikTok and Pinterest, represent the new frontier for a booming market of socially integrated commerce.
The social commerce strategy gives shoppers the opportunity to buy directly within social networks, so consumers convert while they're still engaged on the platform. eMarketer recently anticipated that more than 75 million U.S. consumers will make at least one purchase through social channels this year, representing an increase of 17.3% from 2019. If brands don't invest in these channels, they are losing substantial business opportunities.
Key Social Commerce Platforms
Facebook Shops
In May of 2020, Facebook announced their launch of Facebook Shops, a mobile-first shopping experience where retailers can create online stores for free. The announcement came as stay-at-home orders due to the COVID-19 pandemic had begun to have devastating impacts on small businesses and drive record sales for eCommerce retailers. With over 160 million small businesses currently using the company's apps, Shops is definitely a powerful way for businesses to easily connect with customers in a new way.
Instagram Shoppable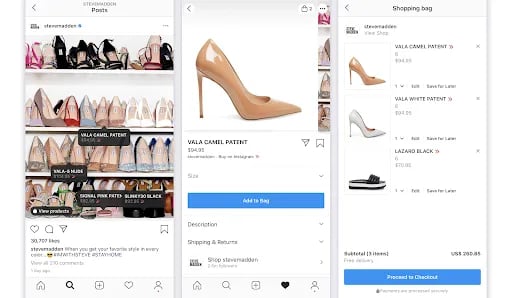 Even more than Facebook, Instagram is the platform where young people turn to discover new brands and products. According to the segmentation of 1.6 million shoppers' Facebook data, 70% of shopping enthusiasts turn to Instagram for product discovery. It's no surprise, then, that every direct-to-consumer brand is currently running ads on Instagram.
Instagram shopping has created a truly seamless customer experience. Instead of catering to an immediate need, like Google, Instagram anticipates, and stimulates desire. The platform analyzes users' browsing behavior to determine interests and delivers tailored ads based on this information. In other words, Instagram is now present across the entire buyer journey, from the initial point of inspiration to discovery, to purchase.
Furthermore, products can be tagged in stories and posts, making it easy for users to explore products as they navigate through the app. A recently introduced key feature of Instagram is the Save feature, which allows users to easily bookmark products and save them for later. An in-app checkout feature is currently in a closed beta test, which will further streamline the mobile commerce experience by allowing brands to sell products directly from their organic or paid posts.
Google Shopping
Although different from Facebook and Instagram, Google Shopping is another effective mobile commerce platform that retailers should invest in. While Google Shopping is not technically an online marketplace, it still allows shoppers to browse a variety of products based on a query.
Google Shopping is proven to have 30% higher conversion rates than text ads. If you're not listing your products on Google, you're missing out on a lot of exposure.
Effective Social Commerce Tactics
Invest in Appropriate Channels
With a finite paid media budget, you'll want to identify the right networks for your social commerce strategy. Who are your prospects? What content do they engage with? Which channels are they on? The better you know your target audience, the easier it will be to know which platform is most appropriate for your brand.
Keep It Visually Appealing
As with social media marketing, the importance of visually engaging content cannot be understated. With Instagram especially, it's all about high-quality photos and aesthetic appeal. Projecting a unique and compelling image is critical to success on any social commerce platform.
Design Shorter Paths To Purchase
It's critically important for brands to allow social media users to easily "shop the look" on social platforms in order to dramatically shorten the buying process by eliminating the need for product searches. Forward-thinking retailers are creating interactive product catalogs on their social media pages, including a "Buy Now" call-to-action that drives interested viewers directly to the purchase page.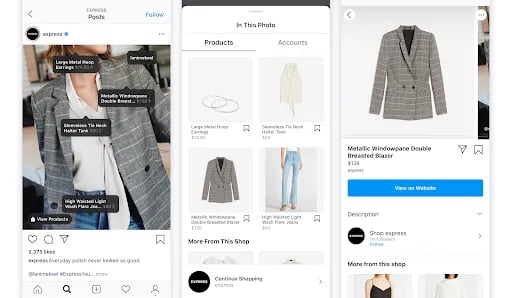 Once you've got the visitor to the purchase page, the fewer clicks, the better! A longer path to checkout from on your digital commerce platform means you're more likely to lose engaged shoppers along the way. One of the biggest draws to social commerce is the streamlining of the entire buying process to create a convenient, frictionless experience: don't ruin this by making shoppers click through a dozen pages in order to purchase their product(s).
* * *
Millennials and Gen Z have completely rewritten the rules for retailers in a mobile-first world. As a result, social commerce is an indispensable tool for retailers and fashion brands to engage with prospective buyers and drive more sales. HotWax Commerce Digital Commerce has ready integrations with Facebook, Instagram, and Google Shopping—request a consultation with the HotWax Commerce team to learn how we can assist in your creation of a productive, scalable social commerce program.