In the age of COVID-19, physical retail locations are experiencing a sharp decline in sales, while eCommerce is a booming business during this period of social distancing. Once the impact of the coronavirus eventually dissipates, retailers that filed bankruptcy will have to come out stronger than ever before if they're to succeed in this competitive landscape. Many may come out of this situation realizing that the traditional, "boring" retail experience of the past is no longer viable to their growth and that they must embrace omnichannel strategies and experiential retail concepts to meet customers' changing behaviors.
Omnichannel no longer represents a market opportunity for businesses; it's a market necessity. But what makes one omnichannel strategy better than another? Have you ever heard of a distributed order management system before? If so, you likely understand its importance to your omnichannel success. If you've never heard the term before, we're here to ensure you'll be a Distributed Order Management (DOM) expert in no time, putting you on the fast track to success for the rest of 2020 and beyond.
Multiple Fulfillment Options
Order fulfillment can be classified into two categories: customer-facing and internal. For retailers to have a successful customer-facing fulfillment process, they must have participation from their consumers to complete orders. Internal fulfillment isn't visible to customers but still provides flexibility to retailers in how they ship the orders. There are numerous customer-facing and internal fulfillment options available, most notably:
Customer-Facing
Buy Online Pick Up In Store

(BOPIS or Click and Collect)

Buy Online Ship to Store (BOSS)
Reserve Online Pick In Store (AKA Reserve and Collect)
Endless Aisle (AKA Save the Sale)
Internal
Traditional fulfillment from distribution centers
Ship From Store for Online Orders
Store to Store Fulfillment
Drop-Ship by manufacturers or vendors
Today's customers love having multiple fulfillment choices at their disposals such as BOPIS or Endless Aisle. These customer-facing options will help your business increase your conversion rates and customer lifetime value if you play your cards right and support these shopping preferences. Consumers want to buy items on their terms, not yours, so enabling shoppers to select the options that are best for them will lead to stronger customer loyalty in the long run.
But not to be outdone, the internal fulfillment options are also valuable to retailers, especially Ship From Store, which reduces your delivery costs and delivery timelines. Drop-Ship options are becoming more important as well, enabling businesses to transfer the order and shipment details directly from the manufacturer to the customer. During COVID-19, many brands have opted for this drop-ship model for orders from China, avoiding the steps of receiving items at their distribution centers and then fulfilling the orders from these locations. Fast, efficient, and hassle-free.
Modern Distributed Order Management systems—along with pre-integrated digital solutions like clienteling, in-store fulfillment, inventory receiving, and inventory counting—integrate with other systems such as point of sale (POS), warehouse management system (WMS), and enterprise resource planning (ERP) solution. A Distributed Order Management system combined with these other tools means your company can gain real-time inventory visibility across your supply chain and accomplish all the fulfillment options discussed above.
Now let's find out more about why real-time inventory visibility is so important to your brand's success.
Real-Time Inventory Visibility
Some websites observed during our secret shopper studies, didn't have real-time inventory visibility of products available in nearby stores, or they had a feature but products were out of stock in-store. When these retailers' physical locations were visited, we found those products were indeed on the shelf. So why the discrepancy? It's simple: Many companies lack the systems needed to deliver on their promise of real-time inventory visibility. Had we been a real shopper looking to make a purchase, these businesses would've missed out on a potential sale because the website said the products were out of stock.

Simply put: It's a poor practice to display inaccurate inventory availability. Unfortunately, real-time inventory visibility and accurate available-to-promise (ATP) are challenges that every retailer must overcome if they're to provide a seamless shopping experience. One of the main culprits of this disconnect is that many retailers classify their inventory into different pools (including safety stock) to satisfy customers on different channels. The final amount displayed as available for pickup in-store is the end number that comes out after all the calculations. This is a time-consuming, tedious process that involves a lot of maintenance work, and as an end result, some channels are left with excessive inventory and some with low inventory.

What's a better way of avoiding this issue altogether? A modern Distributed Order Management system takes into account a real-time view of true inventory availability. Instead of relying on safety stocks due to systems that can only communicate in batch or daily processes, modern DOM with its APIs integrates in real-time. DOM APIs enable systems like POS and WMS to send inventory positions in real-time when items are sold, shipped, or received throughout the day. DOM APIs also feed SKU and its inventory levels to the Digital Commerce site. This is a true inventory available to promise, no questions asked.

A Distributed Order Management system will also help solve the age-old inventory problem, especially during seasonal shopping periods. Retailers often rely on distribution centers to fulfill Digital Commerce orders because they lack real-time inventory availability across their stores throughout the day. This lack of insight often results in excess inventory toward the end of certain seasons, which leads to pricing markdowns. But don't worry; a Distributed Order Management system will enable your shoppers to see real-time ATP inventory, helping your company see an increase in-store traffic, conversion rates, inventory turnovers, average order value, and reduced markdowns. What's not to love?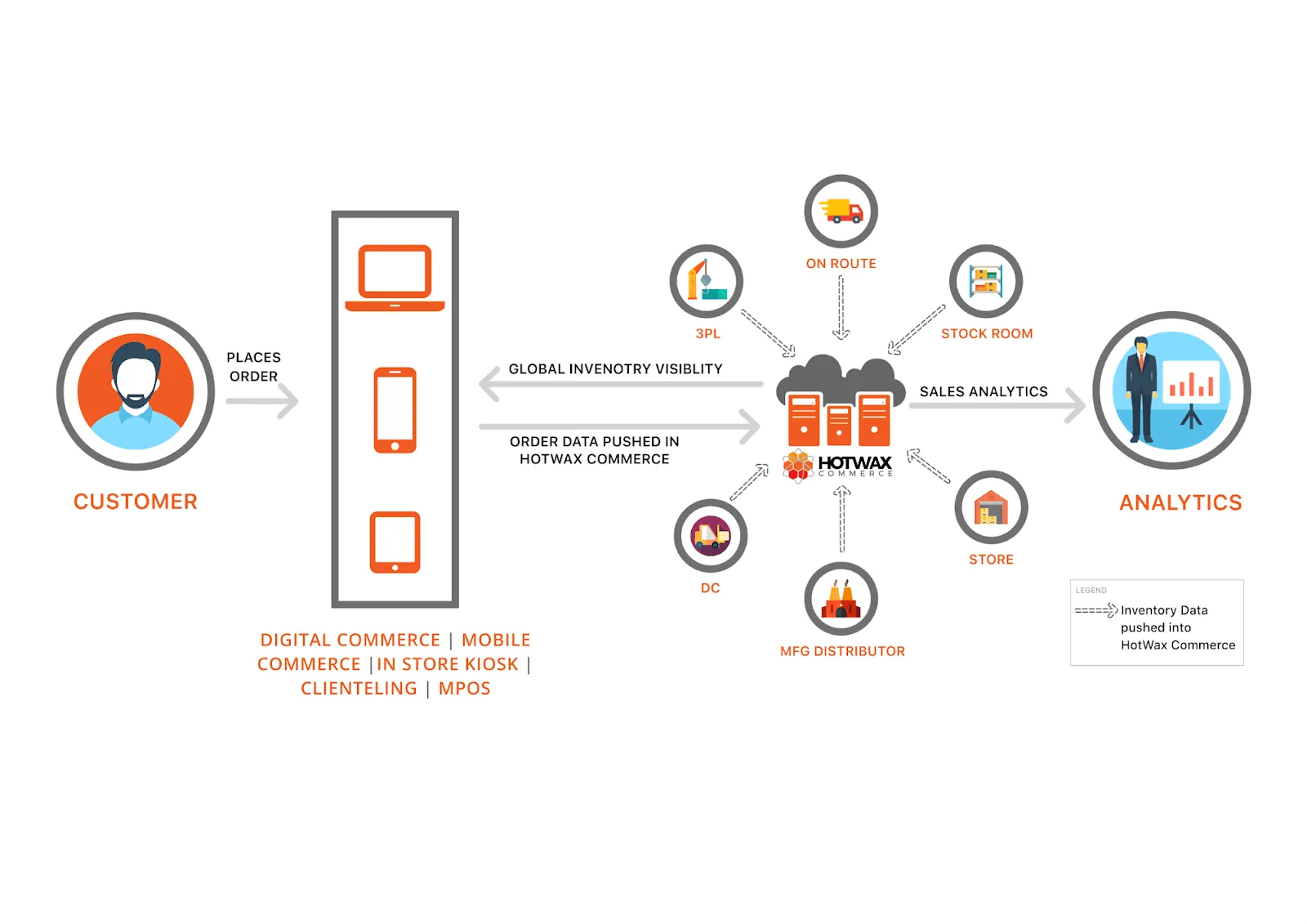 Order Brokering
Online shopping should be simple and convenient, yet retailers still have plenty of frustrated shoppers on their hands who find an item they want to purchase that's out of stock. This is a common problem for businesses that fulfill orders from a distribution center. Luckily, companies can use their brick-and-mortar stores to serve as fulfillment centers by leveraging that location's inventory to avoid the dreaded "out-of-stock" scenario.

Distributed Order Management systems have order brokering (routing) logic that enables retailers to broker the online order to the nearest distribution center or closest store of the customer's shipping address. A Distributed Order Management system provides multiple options to configure these brokering rules. For example, a company can give first priority to the distribution center if it has inventory, and the order can be fulfilled within a promised service-level agreement (SLA) of two-day or one-day delivery. And if the distribution center has inventory but doesn't meet the promised SLA, the order can be brokered to the store that has inventory and meets the SLA.

The advantages of modern Distributed Order Management systems in action extend even deeper. If there are multiple stores that meet this SLA, the order can be brokered to the store that has a maximum inventory count. All these rules can be configured by retailers. With smart order brokering rules, retailers can offer options like next-day and same-day delivery and at the same time keeping the delivery cost low. Talk about impressive.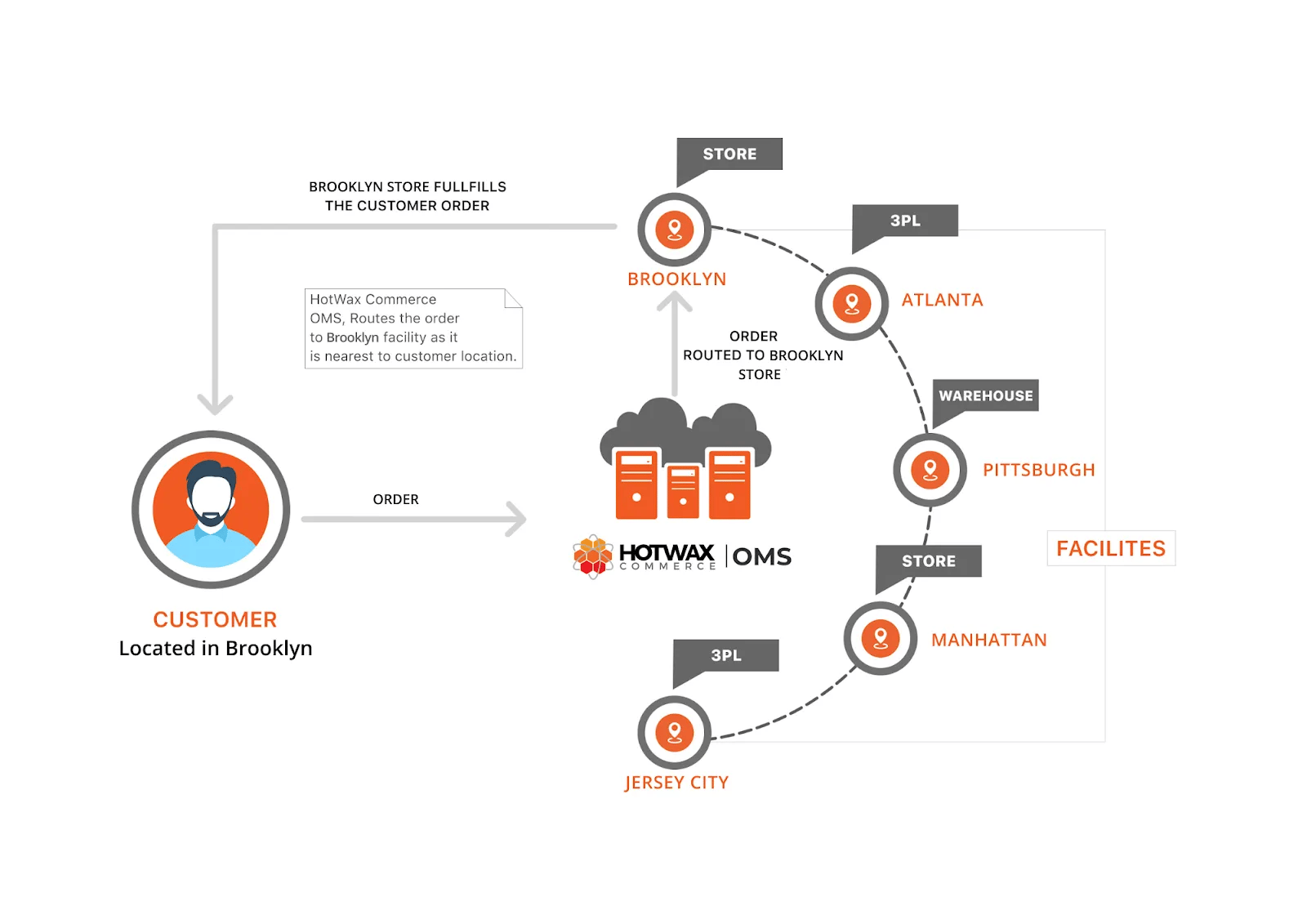 Evolve With Your Customers
During the coronavirus pandemic, online research has reigned supreme, and this mentality may become the "new normal" in the future. After the COVID-19 pandemic subsides, the retail industry will likely see a change in customers' behavior. Consumers will likely be more mission-oriented before they step foot into a physical location. They'll spend more time performing their product discovery and inventory checks online rather than in-store. Once this intel is received, the final step will be to visit the store where their items are waiting, minimizing the time needed to be physically at the brick-and-mortar location.

Customers' buying preferences may change over time, but one thing will remain consistent: customers demand fast delivery of their items, no questions asked. If you're able to fulfill your consumers' orders from any channel by using inventory across your network of stores and distribution centers, you will not only survive the coronavirus-related retail landscape, you'll thrive by exceeding your shoppers' delivery expectations.

To reach this point, a Distributed Order Management system will form the heart of your omnichannel strategy. This system will ensure your business has real-time inventory visibility, can offer multiple fulfillment options to your customers, and help grow store traffic, average order value, and conversion rates. Combined, all of these factors mean you may experience top-line revenue growth up to 30%, and who wouldn't want those kinds of results?
* * *
Traditional Digital Commerce and POS systems have served their purpose well when focusing on their respective channels. Online sales have lived in a Digital Commerce world with dedicated inventory, while in-store sales have lived in POS systems with their own inventory. However, they were never designed to support real-time inventory visibility for different fulfillment options, prompting some retailers to try and customize and integrate these separate systems. The main issue with this approach was that these integrations couldn't scale and manage real-time inventory availability across multiple channels.

But the retail industry is constantly evolving and taking on challenges as they come. This mentality has led to new systems to address old problems. The need for a system that can act as a central repository and a single source of truth for inventory and orders resulted in the rise of today's distributed order management. A Distributed Order Management system with APIs that integrate with Digital Commerce, POS, WMS, and ERP systems empowers retailers to share real-time inventory availability across all online and offline channels to ensure demand from any channel is fulfilled using unsold inventory. Contact us today to learn more about our best-in-class Distributed Order Management solution.