As any business leader can tell you, the main goal of virtually every publicly-owned company is to maximize shareholder value by increasing business profitability. With eCommerce now accounting for 19.1% of total retail sales, aligning online and in-store sales success is of utmost importance to retailers hoping to maximize their profitability.
Any retail leader today can see the penetration of omnichannel initiatives in the retail market. Offerings like Ship From Store and Buy Online Pick-Up In Store (BOPIS) have skyrocketed in popularity, but many brands are still hesitant to invest in new technology to scale these programs – or simply don't know where to start.
In this blog, we explore how to make the business case for omnichannel order management and show retailers how to determine the value they can achieve by implementing an Enterprise Order Management System (OMS) to ultimately increase shareholder value.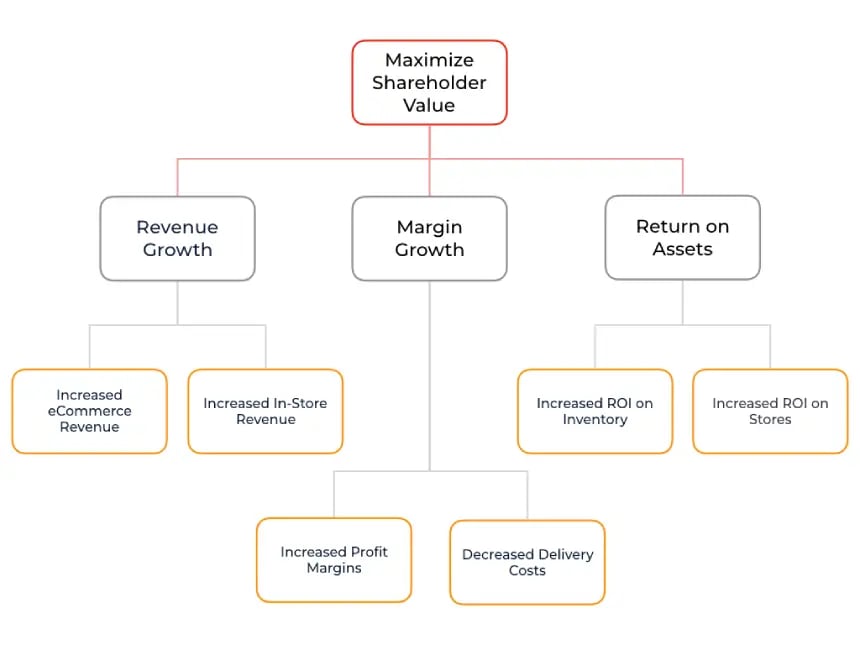 Revenue Growth
Perhaps the most straightforward way to sell omnichannel order management internally is to highlight its capacity to drive top-line revenue growth. An enterprise omnichannel order management system grows total revenue in two main ways: incremental eCommerce revenue and incremental store revenue.
Increased eCommerce Revenue
Despite nearly a quarter of retail revenue coming from online eCommerce channels (consumers spent a staggering $870.78 billion in online sales with U.S. merchants last year), many retailers continue to have a bias toward in-store sales and fail to properly invest in online sales as their primary growth engine.
Arguably the most important capability of an omnichannel order management system is to unify all inventory into one pool, maximizing the availability of products to grow eCommerce sales. Historically, brands have siloed inventory streams, with a segment of inventory set aside specifically for eCommerce sales. Using an OMS to establish a single view of inventory and making all inventory available to online shoppers is a massive step forward in driving revenue and increasing overall profitability.
Increased In-Store Revenue
An omnichannel order management solution doesn't just support eCommerce sales. It leverages multiple channels to maximize speed and convenience for the consumer. By facilitating diverse order fulfillment options like BOPIS or Click-and-Collect and Ship From Store, an OMS also drives in-store sales and revenue.
The importance of lightning-fast fulfillment today cannot be overstated. A recent study from LaserShip found that 61% of retailers indicated that offering faster shipping options is their "primary differentiating strategy to stay ahead of the competition." For retailers who can't afford to offer free, next-day delivery, offering options like BOPIS allows customers to take advantage of free, next-day collection, drives incremental sales, and increases footfall in stores. When online shoppers are brought into stores, they often make additional in-store purchases and have meaningful in-person brand experiences.
But without an intelligent OMS that unifies inventory management, retailers can't successfully leverage store stock to improve the fulfillment speed of online orders.
Margin Growth
Maximizing profitability is not just about growing revenue. Omnichannel order management also accelerates growth and increases shareholder value by driving a higher gross margin for retail brands. Let's see how!
Increased Profit Margins
How does an omnichannel order management solution improve this metric? It all comes back to having a unified, real-time view of inventory.
With a cross-channel source of truth for inventory availability, retail brands can be smarter in the way they approach product markdowns. By utilizing store stock for multichannel orders and having a holistic view of product availability, markdowns can be reduced, driving an improved sales margin.
An OMS is also critical for global brands spanning multiple countries. Having a single view of global stock allows these retailers to fulfill orders across countries optimally, optimize sales and inventory, and make the soundest business decisions.
Decreased Delivery Costs
Retailers today face a serious dilemma when it comes to shipping costs: the costs of transportation continue to rise, while customer expectations of free, rapid delivery are becoming more and more mainstream. Leveraging omnichannel order management to pool inventory is a key way for retailers to reduce shipping costs and ship inventory directly from stores closest to consumers.
An omnichannel OMS provides the intelligence and the agility necessary to make these fulfillment decisions, driving a positive impact on margin and overall profitability.
Return on Assets
Finally, omnichannel order management plays an important role in optimizing asset utilization for multichannel retailers.
Increased ROI on Inventory
With eCommerce growing and the number of sales channels rising, it is extremely difficult for retailers to determine how to allocate inventory optimally across each sales channel. Achieving a single, synchronized view of inventory empowers retailers, allowing them to optimize stock requirements by demand and make informed supply chain decisions, thereby increasing overall profitability.
Another key area in which omnichannel order management supports efficient inventory utilization is when it comes to returns. In 2021, the average return rate for online retail purchases in the US was 20.8% of total merchandise. Accepting in-store returns of these items and immediately adding them back into the inventory pool reduced bottlenecks caused by high return rates. Ultimately, the omnichannel OMS helps retailers use inventory assets more fully, improving the customer experience and driving profits.
Increased ROI on Stores
An omnichannel OMS also helps retailers optimize the use of its fixed assets used in the operation of the business itself. This is especially true when it comes to brick-and-mortar store locations.
An omnichannel order management system allows organizations to become more agile in their order fulfillment strategies, improving store utilization. Reconfiguring stores partially into online fulfillment locations, or even "dark stores" designed to cater exclusively to online order fulfillment, has a positive impact on sales and optimizing business capital. A cloud-based OMS helps brands adapt and leverage stores in ways that they never have before.
* * *
From maximizing revenue to optimizing asset utilization, investment in an omnichannel OMS allows retailers to drive profitability and business growth. This blog outlines the key areas in which an OMS empowers retailers to make sound business decisions and increase shareholder value.
HotWax Commerce works with retailers to provide the best return on their inventory through omnichannel retailing strategies such as same-day BOPIS, Ship From Store, and Pre-Orders. If you are interested in learning how our omnichannel order management system can take your brand to the next level and increase conversion rates and profitability, contact our omnichannel experts today.