Progressive Shopify merchants understand that improving their customers' Shopify in-store pickup experience is an excellent way to cultivate strong customer relationships. As a result, Shopify merchants are constantly looking for ways to improve the post-purchase experience.
One of the best tools for enhancing the post-purchase customer experience is email communication. Email communication empowers retailers to:
Build customer relationships.

Improve customer service.

Manage customer expectations.

Increase sales conversions.
For Shopify merchants who offer Shopify in-store pickup options, post-purchase emails are extremely important. To make store Pick-Up Orders more accommodating for customers, retailers are focused on customer contribution, timely order status notifications, and relevant triggers for Pick-Up Orders.
Below, we will discuss six critical emails for Shopify in-store pickup orders that Shopify merchants should send to build long-lasting customer relationships.
1. Order Confirmation
Customers will anticipate a confirmation email from the seller after completing their payment. This email acknowledges that the order has been received.
These emails should include the following information:
A list of ordered items

The order total and payment method

The expected order preparation time

The pick-up location

Customer support information
Customers typically want to pick up their Buy Online Pick-Up In Store (BOPIS) orders as soon as possible, so providing a delivery timeline is critical. Additionally, confirming the chosen delivery option can reassure customers of their selected delivery option.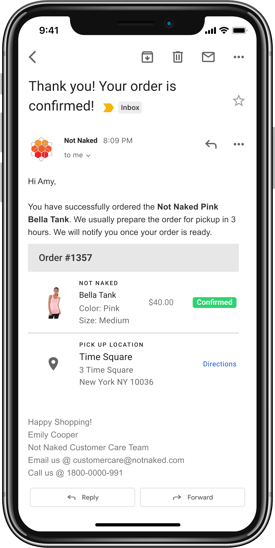 Fig 1: Order Confirmation Email
2. Pick-Up Notification
Retailers have standard operating procedures for BOPIS order preparations to prevent inconveniences and ensure customer support. Once the BOPIS orders are packed and ready for pickup, an email is sent to notify the customers.
"Ready for Pick-Up" emails are crucial in the BOPIS order journey. Customers eagerly wait to pick up their BOPIS orders and often plan their pick-up around busy schedules. It is important to make sure the customer is not inconvenienced by any avoidable wait times.
Imagine a scenario where an order is ready and the customer is not made aware. The customer may not pick up their order because they think there is a delay in the order packing. Alternatively, customers may arrive at the store before the order is ready for pick up and have to wait for the order to be packed. Both situations can result in customers being disappointed by their experience.
"Ready for Pick-Up" emails should have the details about the Pick-Up Order's customer arrival time. Retailers can choose to add the product information and store location again alongside customer support information to ensure a smooth Shopify in-store pickup experience for the customer.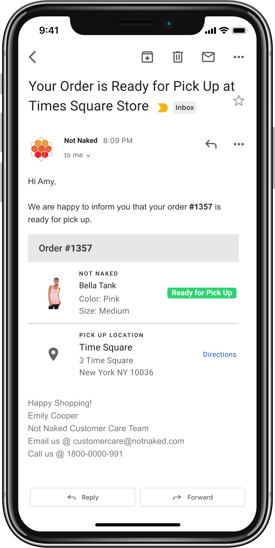 Fig 2: Pick-Up Notification Email
3. Pick-Up Reminders
Customers may occasionally miss their pick-up notification email. In such scenarios, pick-up reminder emails are important. Retailers may have policies regarding the count and frequency of reminder emails, however, reminder emails are crucial to escalating the pickup process and minimizing inventory carrying costs.
Retailers can choose to send information about options for order cancellation and other fulfillment options in reminder emails. Retailers often decide to provide alternative fulfillment options when a customer is not able to pick up the order. Reminder emails should also include the same details as the pick-up notification email to enhance the customer experience.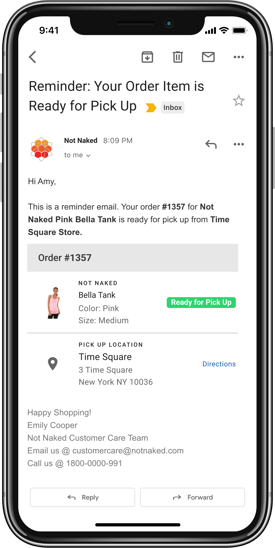 Fig 3: Pick-Up Reminders Email
4. Order Cancellation
Despite constant reminders, customers occasionally do not pick up their orders at all. As inventory is reserved for ordered items, orders need to be canceled after a certain time has passed to open up the inventory for other customers. Per industry standards, retailers provide a 7-day timeline to the customers before they opt to cancel the order and release the inventory. However, this timeline can vary based on the retailer's policies.
Once the order is canceled, retailers should send a cancellation email to the customer to notify them that the order is no longer available.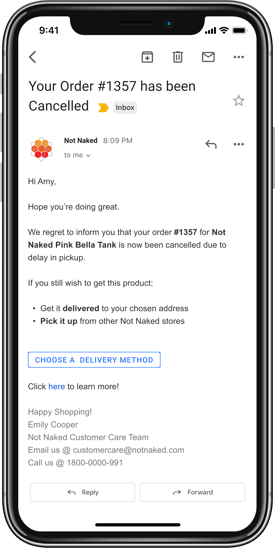 Fig 4: Order Cancellation Email
5. Item not available - Pick-Up from another store?
Sometimes store associates may not find inventory for Store Pick-Up orders due to unavailable inventory. However, to save the sale, retailers will provide other fulfillment options. They can give an option to the customer to get the ordered item shipped to their doorstep or pick up the item from another store. When store associates reject orders from the store, they can then send an email to the customer explaining that the item is unavailable for pickup due to a lack of inventory and provide two options to choose from:
Pick-up from another store

Ship to a preferred address.
Without sending an email update, retailers cannot provide customers with alternative options and will ultimately lose the sale and potentially the customer.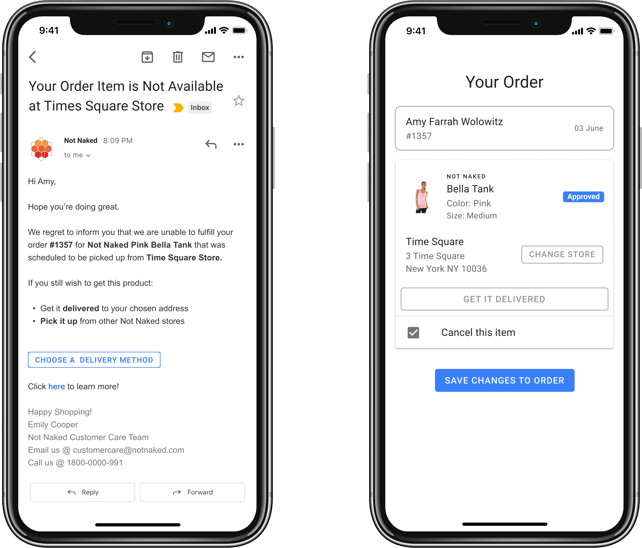 Fig 5: Unavailable item- Pick-Up from another store
6. Pick-Up Confirmation
The "Pick-up Confirmation" email is the last post-purchase email in the Shopify Store Pick-Up experience. The "Pick-up Confirmation" email officially confirms that the customer has received their order. This is especially important if the customer's friend or family member picks up the order for them.
"Pick-up Confirmation" emails are also a great opportunity to build customer relationships. Retailers can now ask for feedback and suggestions about the order pick-up process to enhance future customer experiences. Lastly, the confirmation email should also include serviceability options and return policies.

Fig 6: Pick-Up Confirmation Email
Providing real-time post-purchase email updates improves the Shopify in-store pickup customer experience and increases repeat Shopify in-store pickup orders. Smooth operations combined with on-time communication will increase Shopify in-store pickup orders. The HotWax Commerce Order Management System integrates with email and marketing automation software, like Klaviyo, to enable all 6 critical emails for Shopify Store Pick-Up Orders.
* * *
To learn more about HotWax Commerce Order Management System email and marketing integrations, chat with our team today.