Customers love Buy Online Pick-Up In Store (BOPIS) because it offers the best of both worlds: the comfort of discovering & ordering products online and being able to have your purchase the same day. Other attractive features of BOPIS for customers are avoiding shipping fees, long delivery times, and possible delivery issues. Offering store pick-up allows Shopify retailers to sell their inventory fast and save on shipping costs. Same-day store pick-up has shown to be a win-win for both shoppers and Shopify retailers.
Shopify offers local store pick-up option on the checkout page that works well when you have five or fewer stores. As soon as the number of stores grows, it impacts the user experience. Imagine Shopify retailers have 20 stores. When a long list of 20 stores is displayed on the checkout page, the shopper may feel overwhelmed.
In this blog, we'll discuss factors that have an impact on user experience when launching Shopify's local pickup option.
1. Display Selective Stores On the Product Detail Page For Store Pickup
In the native Shopify local pickup experience, shoppers add products to the cart and then select a preferred location to pick up their BOPIS orders at checkout. Sometimes, shoppers choose a pickup store and find that the order cannot be placed due to out-of-stock inventory at that specific location.
It is also possible that another location nearby has that product in stock, but shoppers don't want to be taken back to square one in terms of selecting another store for their pickup order. As a result, shoppers may decide to abandon their purchase.
A good BOPIS experience should provide shoppers with a list of stores near the shopper's location that have the required product in stock. In case the product is not available at the shopper's preferred location, the Product Detail Page (PDP) must display the estimated pick-up date for that store, e.g. "pick up in 3 days". This allows Shopify retailers time to ship inventory from the warehouse to the store.
Shoppers are given the option to pick up their orders from nearby stores with the product in stock or wait 2-3 days to pick-up from their preferred location. With the added options, shoppers can make quick purchase decisions, resulting in a convenient shopping experience.

Fig 1: Selective store display on PDP for store pickup
2. Provide the Store's Operating Hours
Shoppers usually want to pick up BOPIS orders the same day, but orders placed just before store closing hours cannot be fulfilled the same day due to preparation time involved in locating the stock, picking stock, and packing the order to be ready for pickup.
A store's hours of operation may vary from day to day. When this information is not present on the PDP, shoppers may attempt to pick up their order after the store is closed.
The inability to show store operating hours to shoppers will result in unrealistic customer expectations and a disappointing BOPIS experience. Shopify retailers should provide exact store operating hours on the PDP to help shoppers more accurately plan their store visits for pickup. After reviewing the store's operating hours and estimated store pick-up time on the PDP, shoppers will be encouraged to make a quick purchase.
Shopify retailers should display exact store operating hours on the PDP to enable shoppers to plan their store visits for pickup.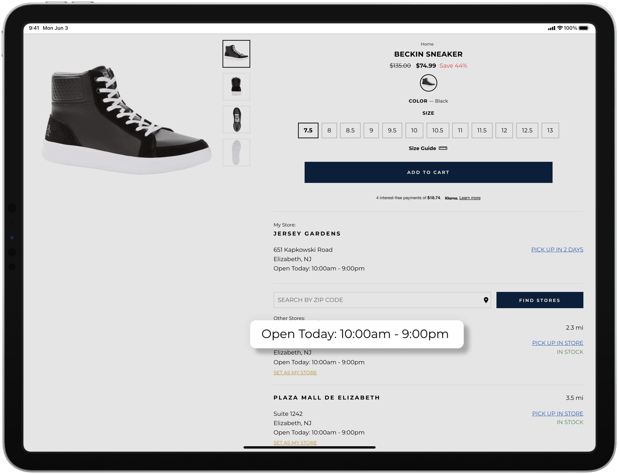 Fig 2: Display of Store's operating hours
3. Display Distance from the Shoppers' Location to the Pickup Location
When placing BOPIS orders, shoppers will want to choose the closest pick-up store from their location. Many Shopify retailers will show a list of stores in random order. If shoppers have to sort through and figure out which store is closest to them, it becomes a hassle for them. It is always recommended to display the list of stores sorted by distance from the shopper's location so that they can quickly decide which store is most convenient for them to pick up their order items.
By providing the estimated store distance from the shopper's location on the PDP, shoppers can quickly analyze which store is closest to them.
An effective BOPIS experience should include a Store Distance Computation feature. This feature can use shoppers' Zip codes or IP addresses to accurately compute the distance between shoppers and pickup stores. This added level of convenience enhances the overall BOPIS experience and empowers shoppers to make an informed purchase decision.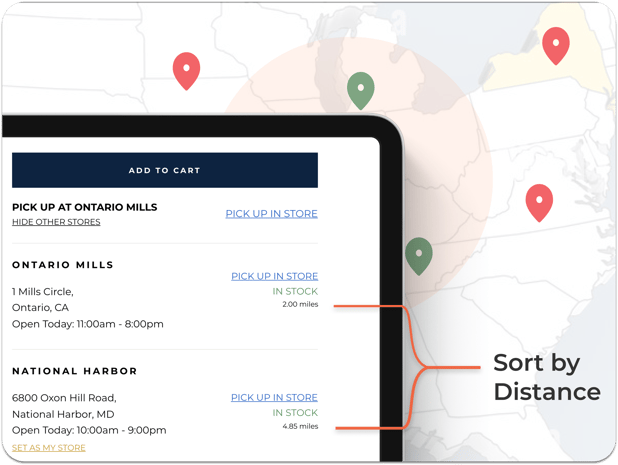 Fig 3: Display distance from Shopper's location
4. Enable Customers to Save a Preferred Shopify Local Pickup Location
Generally, shoppers have a preferred pick-up location for their BOPIS orders. Shoppers prefer not to have to select the same pickup location each time they place an order. Having to manually select the same pickup location each time makes the process time-consuming and inconvenient for the shopper.
An effective BOPIS experience allows shoppers to set a "default" pick-up location. This feature not only saves shoppers time but removes the frustration of selecting the same pickup location every time they log in to the website.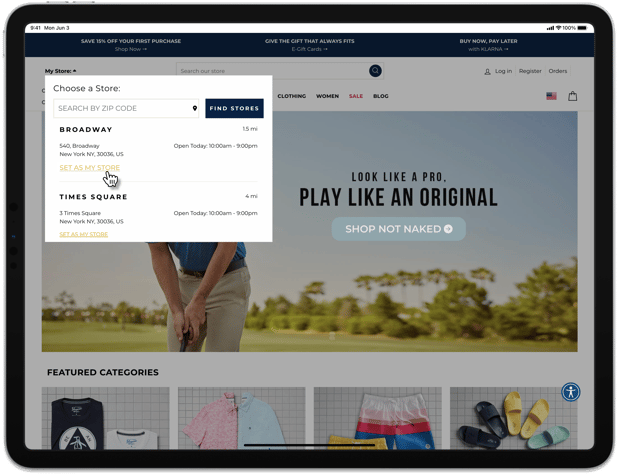 Fig 4: Save preferred pickup location
5. Avoid Confusion by Displaying the Primary Facility Brand Store
Many times, retailers will launch new brands at a lower scale before putting a larger capital investment into physical stores for the new brand. Because of this, retailers may stock items from new brands at their existing brand's store to provide BOPIS order pickups.
Sometimes this can become tricky as a new brand may launch a new eCommerce site for the brand where they are collecting orders. If a shopper places a BOPIS order on a new brand's website and reaches the displayed pickup location on the PDP only to find a different store there, the shopper will get confused. Retailers must mention that the new brand is operating within its existing store to avoid frustration due to ambiguity. This will lead to a negative experience for the shopper. To avoid any confusion, Shopify retailers should display the brand operating the pickup location on the PDP.
By displaying the operating store for the brand on the PDP, Shopify retailers can accurately showcase items from the new brand that can be picked up at their existing retail location.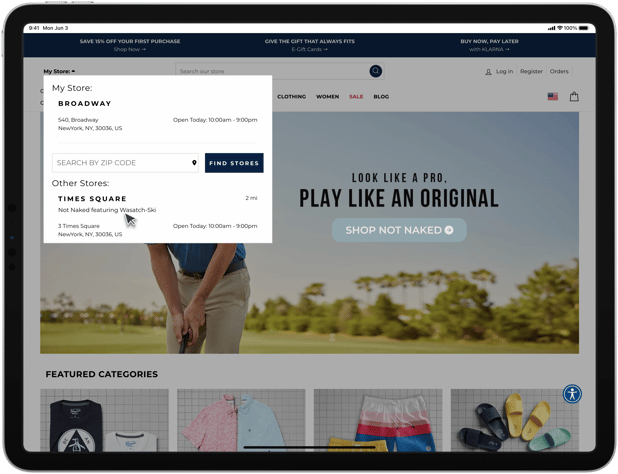 Fig 5: Display primary facility store
6. Avoid BOPIS Abandonments
Sometimes, shoppers may leave their shopping carts with BOPIS items unattended for indefinite periods. There can be various reasons for an unattended cart, such as getting distracted by a phone call or simply wanting to browse other websites. There is a chance that the in-store inventory will sell out before the shopper returns to the eCommerce channel to purchase. In this case, the product is no longer available at the store, but shoppers will still see that location as a pick-up option while placing a BOPIS order.
To handle this situation, Shopify retailers must show the valid date and time of when the product is available for purchase at the shoppers' preferred pickup location. This encourages shoppers to make quick purchasing decisions.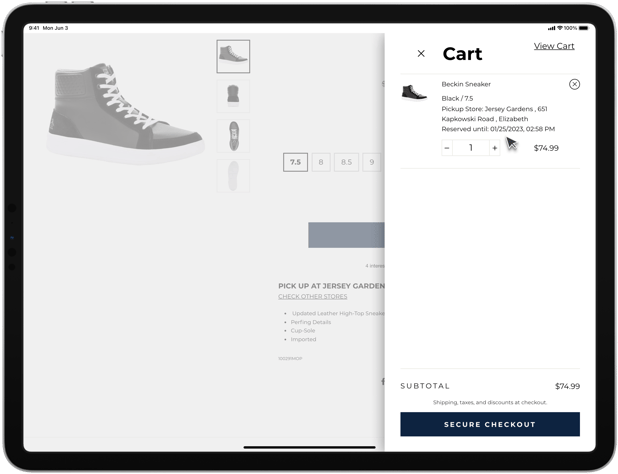 Fig 6: Avoid BOPIS abandonments
Customers who use BOPIS are looking for an effortless shopping experience. While working closely with retail brands implementing store pick-up on Shopify, HotWax Commerce has learned that integrating these features on the PDP helps Shopify retailers create a convenient BOPIS experience.
* * *
HotWax Commerce's Order Management System for Shopify has a built-in integration with Shopify, and Shopify POS, that empowers your team to seamlessly implement all of these features and optimize your Shopify store. Request a consultation with the HotWax Commerce team to learn how to enhance your customers' BOPIS experience.