In our previous blog, "How to Manage Shopify Pre-Order Catalog with Ease?" we discussed how HotWax Commerce helps automate the end-to-end Pre-Order catalog management process, from determining which products can be pre-ordered to listing and delisting pre-orderable products to Shopify.
As a follow-up to and continuation of our previous piece, this blog dives into a few more key factors that retailers must consider when capturing Pre-Orders on Shopify and releasing them when inventory is available.
Capturing Shopify Pre-Orders
Once customers place Pre-Orders on Shopify, they are downloaded in HotWax Commerce at frequent intervals. The default time interval for downloading new orders is 15 minutes, but merchandisers can configure this value depending on order volume.
When an order is downloaded in HotWax Commerce, it checks whether the item ordered is Pre-Ordered or in stock. After analyzing the order items, two things occur:
1. All the regular orders are sent to the "brokering queue."
2. All the Pre-Orders are sent to "Pre-Order parking."
HotWax Commerce runs the brokering process in frequent time intervals to allocate inventory for all the orders in the brokering queue. Pre-Orders, however, are in the Pre-Order parking until their inventory arrives.
During the automatic inventory allocation for Shopify Pre-Orders, HotWax Commerce releases, and brokers' Pre-Orders without manual intervention. When merchandisers prefer more control over what inventory should be available for online Pre-Orders, they release Pre-Orders manually instead of automatically. This is because some merchants have physical stores along with their eCommerce websites. Auto-releasing would allocate all the available inventory to online Pre-Orders. Therefore, they prefer to reserve some of the inventory for their stores rather than allocating all of it to online orders.
Let's take a closer look at each process:
1. Auto Releasing:
Most merchants prefer to release orders once their inventory is available and when their estimated ship date has arrived. Some merchants, however, do not care about the estimated shipping date of a product and instead release orders the moment they receive inventory. To ensure that HotWax Commerce meets the merchant's requirements, it provides two methods for automatically releasing Shopify Pre-Orders.
Merchants who consider inventory availability and estimated ship dates:
The "auto-release" setting enables merchandisers to schedule jobs at frequent intervals that check the estimated ship date and inventory availability of all order items in the Pre-Order parking. Pre-Orders are automatically moved from the "Pre-Order parking" to the "brokering queue" when the estimated shipment date arrives, and inventory is also available. All Pre-Orders are then sent to fulfillment locations where inventory is available and fulfilled on a "First in, First out" basis.
Merchants who want to ship orders as soon as possible:
Merchants without brick-and-mortar stores who need to manage inventory allocations typically broker orders directly from the Pre-Order parking. Merchants can send orders for fulfillment even if their promise date has not passed using the same brokering rules they have set up for standard orders. Furthermore, merchants can also configure custom brokering rules for orders in their Pre-Order parking. All the Pre-Orders from the Pre-Order parking are immediately sent to a fulfillment location based on where the inventory is available and fulfilled on the "First in, First out basis."

Fig.1 Auto releasing of Shopify Pre-Orders
Now let's understand the flow of orders with manual release:
2. Manual Releasing:
HotWax Commerce offers a "Pre-Order Management App" for manually releasing Shopify Pre-Orders.
Merchants may release Pre-Orders either "By Order" or "By Product."
When merchants release Pre-Orders "By Product," they can determine the available product inventory.
Merchants can decide how many Pre-Orders they want to release for online orders and how much inventory should be reserved for physical stores.
For example:

Out of 450 Pre-Orders received on Shopify eCommerce, HotWax Commerce will move 400 Shopify Pre-Orders from "Pre-Order parking" to the" brokering queue." The orders will be brokered to the store or facility according to the inventory availability and will be fulfilled on the "First in, First out basis." However, the remaining 50 will stay in the "Pre-Order parking" until the next "on-order" inventory arrives.
When merchants want to release a particular customer's Pre-Order, they can choose to release it "By Order."
When a customer has requested expedited delivery and if the "On-Order" inventory has been received, releasing "By Orders" will ensure that the merchant can select that particular order and release it early even though its estimated ship date has not yet passed. To meet the customer's expectations, instead of releasing all the Pre-Orders together on the estimated ship date, a merchant can release a particular Pre-Order early. In this way, an order can be fulfilled on a priority basis.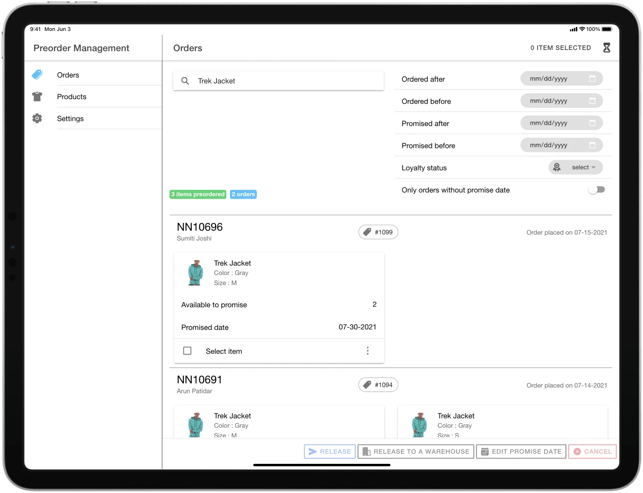 Fig. 2 Manual Releasing by "Order"
In either instance of releasing Pre-Orders "By Product" or "By Order," a merchant who wants to release orders from a specific location, the App also gives them the option to "release to a warehouse." With this, merchandisers can control where the inventory should be allocated.
As the merchant manually selects the preferred location, there's no need for brokering. Pre-Orders are directly headed from the "Pre-Order parking" for fulfillment, skipping the "brokering queue."

Fig. 3 Manual releasing of Shopify Pre-Orders
This blog discusses how HotWax Commerce automates the Shopify Pre-Order management process. We talked about the process of capturing pre-orders and releasing pre-orders automatically. Once the orders are released, they are fulfilled from the respective locations, and their status is also automatically updated in HotWax Commerce & Shopify.
* * *
A dynamic order management system can help you manage the most challenging aspects of omnichannel retailing and increase profitability, cash flow, and customer retention. If you are interested in learning how our omnichannel solutions can take your brand to the next level and drive success with your Pre-Orders strategy, contact the HotWax Commerce team for a free consultation today.