Shopify merchants work diligently to ensure they are getting the most return out of their inventory and avoid overselling. They will pre-plan, forecast the demand, create an assortment, and place Purchase Orders in order to increase their sales. Any discrepancies within their inventory can ultimately affect their sales bottom line. Within the retail industry, only 65-70% of the inventory count is accurate. Inventory inaccuracy can be due to many different factors, such as damaged inventory and theft. Because of this, there is always the opportunity for a mismatch count between physical inventory and inventory counts within the system.
Inventory inaccuracies lead to overselling, which results in disappointed customers. In order to combat these inaccuracies and avoid overselling, Shopify merchants can implement an Inventory Threshold.
Below, we will go deeper into the concept of Inventory Threshold and how it will reduce overselling due to inventory inaccuracies.
What is an Inventory Threshold?
Inventory inaccuracy is a common problem in retail. In order to reduce the risk of overselling due to inventory inaccuracy, retailers reduce the amount of available inventory before promising any inventory to their online sales channels. This amount of inventory reduction is called an Inventory Threshold.
An Inventory Threshold is set to avoid overselling, by combating any mishaps or inventory damage. To do this, the retailer will hold part of their inventory from their online site. This Threshold count is dependent on the retailer and can vary based on different product categories.
Let's look at an example.
A retailer wants to set a Threshold for cargo jeans, a high-selling product. To avoid overselling due to any mishap or inventory damage, the retailer restrains 10 units from the product category to sell online. This Threshold will be set on the product category on the inventory across the company level.
Inventory for Cargo Jeans is available at Store X and Warehouse Y
Total Inventory for cargo jeans at Store X =100
Total Inventory of cargo jeans Warehouse Y =100
Inventory Threshold=10
Inventory Available for online orders = (Store X + Warehouse Y) - Inventory Threshold
Inventory Available for online orders = (100 + 100) - 10
Inventory Available for online orders = 190
Inventory Thresholds can be set at the product level. Still, generally, retailers prefer to set Inventory Thresholds on product categories as a whole. This makes the management of the Inventory Threshold easier.
Inventory Threshold vs Safety Stock
Inventory Threshold is often confused with safety stock, but there are key differences between the two.
Inventory Threshold:

used to prevent inventory, at the company level, from being available for sale due to possible inventory discrepancies.
Safety Stock:

used to prevent any facility's inventory from being available for sale. An example of this is inventory that is specifically reserved by stores for walk-in customers.
Inventory Thresholds are typically used to plan for inventory problems across the company, where safety stock is used across different channels for various reasons.
Managing Inventory Thresholds with Spreadsheets
In online business, inventory numbers are uploaded daily on eCommerce sites. eCommerce uses these inventory numbers to capture online orders from customers. An inventory feed is provided by the ERP which shows inventory that is physically available in a warehouse or a store. This inventory is referred to as the 'Quantity on Hand', not 'Available to Promise' inventory. The eCommerce may have orders for which inventory is not yet reserved. So merchandisers reduce the inventory of these orders to get the 'Available to Promise' inventory. To account for the Inventory Threshold, retailers must manually adjust the 'Available to Promise' inventory of each product within spreadsheets. The retailer can then upload the updated inventory file to their eCommerce.
Manually adjusting thousands of product inventories daily takes a lot of time and needs a dedicated resource. Manual processes also leave room for manual errors that result in overselling.
Instead, retailers can use an omnichannel Order Management System to calculate the 'Available to Promise' inventory and automatically upload inventory files to the eCommerce system. Ideally, an effective Omnichannel Order Management System should also help retailers manage Threshold for products by automatically reducing the Inventory Threshold when calculating 'Available to Promise'.
How do Merchandisers Set up Inventory Thresholds?
Generally, merchandisers prefer to set Inventory Thresholds on product categories, making the management of the Inventory Threshold easier. Instead of remembering and maintaining an Inventory Threshold for individual products, it can be maintained on a group of products in a category.
For example: In the winter season, the demand for Sweaters can be very high. The merchandiser would like to set an Inventory Threshold on all kinds of sweaters, such as v-neck, turtle neck, and oversized. By setting up Inventory Threshold values for Sweaters, the whole sweater category would have a similar Inventory Threshold.
Similarly, merchandisers would like to set Inventory Thresholds for different product categories. These Inventory Threshold values might look like the table below: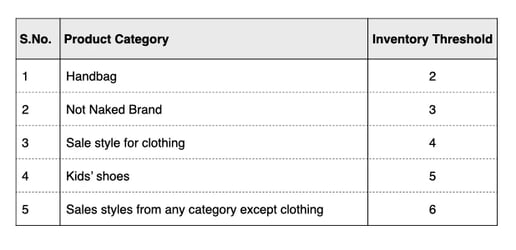 Managing Inventory Thresholds with Shopify
Within Shopify, product categories are managed through Shopify tags. Shopify retailers use these tags to set their Thresholds. Below are some examples of Shopify tags mapped, applied, and set for their product category:

Retailers using Shopify prefer to manage Inventory Thresholds using Shopify tags. There are a number of tag-based rules that allow retailers to set more specific Thresholds on product categories. The complexity of these rules can vary depending on the inclusivity and exclusivity of different products. The table below shows how tag-based rules are used when setting Inventory Thresholds:

HotWax Commerce: Threshold Management App
HotWax Commerce developed a Threshold Management app as an extension of the HotWax Commerce Order Management System. As HotWax Commerce OMS already downloads all the products and their tags from Shopify, merchandisers can apply threshold from the product and their tags using the Threshold Management app. Some benefits of the Threshold management app are:
Enables merchandisers to set Inventory Threshold rules using Shopify tags.

Inventory Thresholds are automatically set for new products when they are downloaded from Shopify and fall under a category where rules apply.

Automatically adds Inventory Threshold to products under the predefined rules.
How to set Inventory Threshold Rules
Example:
If the tag is Girl's Shoes or Boy's Shoes, the Threshold value is 5.
Open the app and click the 'add' button in the include tags section.






Enter the tag names and select 'Boy's Shoes' and 'Girl's Shoes'.





Select 'OR' under the operator. The screen will populate with products linked with the selected tags. You will also be able to see the number of virtual products and variants at the top.





Input the value of 5 in the global Threshold field.





Select 'Save Threshold Rule'.





Enter a name for the rule and click on the cloud upload button. The Threshold will be saved.




Conclusion
Setting an Inventory Threshold can be time-consuming and difficult without the proper resources. It can be challenging to set Inventory Thresholds on thousands of products while keeping your inventory up-to-date. The HotWax Commerce Threshold Management App helps retailers automate the Inventory Threshold management process. When retailers set the Inventory Threshold for a group of products, HotWax Commerce Order Management System will automatically reduce the Inventory Threshold from the online 'Available to Promise' inventory. Later, with a scheduled batch process run, the newly added or removed products are updated with accurate Threshold values under the product set of rules. This ensures accurate 'Available to Promise' on eCommerce sites. Once the Inventory Threshold is set, all of the adjustments will be made for the retailer in no-hands mode.
* * *
With HotWax Commerce's real-time inventory management, retailers can avoid overselling on Shopify and enhance the customer experience. To learn more about how HotWax's Threshold Management App can help you avoid overselling, contact the HotWax team today.