A substantial number of retailers employ Shopify for their eCommerce platform and NetSuite as their Enterprise Resource Planning (ERP) system. They frequently turn to Celigo to facilitate the integration between Shopify and NetSuite. While Celigo is effective for single-warehouse setups, it falls short with multi-location fulfillment. To offer omnichannel services like BOPIS and Two-Day Delivery, unifying inventory across multiple systems and consolidating it for eCommerce is key. But Celigo's limitations create obstacles for complex Shopify NetSuite integration in omnichannel commerce.

To create a seamless omnichannel experience, Shopify retailers need to unify their scattered inventory across multiple systems such as Point-of-Sale (POS), Enterprise Resource Planning (ERP), and Warehouse Management System (WMS). They then need to sync a consolidated inventory count from all locations to eCommerce. Unfortunately, Celigo lacks the capacity to push this consolidated inventory count to Shopify.

To identify the shortcomings of Celigo, we sat down and talked with various omnichannel retailers to better understand the common shortcomings of this integration. Through these conversations, we identified four main areas where Celigo falls short, which will be the focus of this blog.

Let's take a closer look at these four issues of Celigo for omnichannel retailers and the potential alternatives for Shopify NetSuite Integration.
Understanding the limitations of Celigo Shopify NetSuite Integration
NetSuite ERP offers an "Advanced Order Management" (AOM) module, which includes inventory configuration like Buffer Stock management. The AOM module also has an order routing tool called Automatic Location Assignment (ALA) that helps decide the ideal locations to fulfill orders from. For instance, if a certain warehouse is temporarily closed, it can be suspended in ALA to redirect orders elsewhere. It's important to use these configurations to know how much product retailers can actually sell before taking orders. This ensures that the order fulfillment process runs smoothly.
Let's examine how Celigo syncs inventory from NetSuite to Shopify:
The standard integration of Shopify NetSuite integration through Celigo is designed to sync inventory from NetSuite to Shopify and push captured orders from Shopify to NetSuite. Once in NetSuite, the orders are processed by the ALA system.

However, a major drawback of this integration is that the inventory and fulfillment configurations are evaluated only after the order is captured. This means that Shopify isn't aware of the buffer stock settings or which locations are suspended for fulfillment in NetSuite. Consequently, Shopify may capture an order that cannot be fulfilled because Celigo doesn't sync these configurations from NetSuite to Shopify, nor does it calculate consolidated ATP inventory based on these configurations.

As a result, the standard Shopify NetSuite integration through Celigo is suitable only for Shopify retailers fulfilling orders from a single warehouse.

When it comes to omnichannel fulfillment, using Celigo becomes complex and poses operational challenges. Shopify retailers looking for accurate omnichannel fulfillment need a robust Omnichannel Order Management System (OMS) that not only supports the necessary features but also has the capability to calculate consolidated "Available To Promise" inventory and publish it to Shopify at regular intervals.
Scenarios where Celigo falls short
A. Maintaining a Buffer Stock
Shopify retailers who leverage their stores to fulfill online orders aim to reserve a portion of their inventory to ensure sufficient availability of products for walk-in customers, separate from the inventory used for online orders. This element is crucial for ensuring good customer service and adequate stock across the physical locations. Additionally, Shopify retailers attempting to sell through multiple channels often encounter inventory discrepancies which can lead to issues such as overselling, stockouts, fulfillment delays, and customer dissatisfaction. Maintaining a buffer stock enables retailers to make sure that their inventory is not entirely depleted by online orders and helps them address inventory discrepancies effectively.

To reserve inventory for walk-ins and handle inventory discrepancies issues, Shopify retailers can utilize NetSuite's functionality to set a buffer stock. However, Celigo does not consider this inventory configuration when pushing inventory counts to Shopify. Celigo's role is only limited to sync inventory of products from NetSuite to Shopify, without calculating consolidated ATP inventory.

Consequently, stores receive orders they cannot fulfill, leading to the eventual cancellations of those orders. Alternatively, if stores fulfill online orders, walk-in customers seeking the same product may not find it in-store, leading to a disappointing shopping experience.

B. Temporarily suspending fulfillment locations
Not all fulfillment locations are equal when it comes to meeting the demands of online orders. At any given time, a fulfillment location may be unable to complete an online order due to factors like labor shortages, technical problems, disasters, or holidays. When these events arise, Shopify retailers need to be able to temporarily disable fulfillment centers, which simultaneously excludes the inventory at these locations.

NetSuite allows users to enable the Auto Location Assignment Suspended, which allows the temporary disabling of certain fulfillment locations. However, Celigo does not take this configuration into account, nor can it calculate consolidated ATP inventory.

The existing workaround for Shopify retailers is to manually suspend a fulfillment location by disabling the "fulfill online orders from this location" option in Shopify. But maintaining a sync between both NetSuite and Shopify settings adds to the retailers' administrative burden and is a time-consuming process, especially for those who may already be understaffed or have a large network of fulfillment locations. Without an automated disabling process, Shopify retailers risk overlooking a fulfillment center that may inadvertently lead to inventory discrepancies, shipping delays, and unhappy customers elsewhere.

C. Allowing Store Pickup orders while disabling Shipments from Stores
Some stores with a high volume of foot traffic may want to prioritize their in-store customers so that sales associates and store managers can better serve their base. Shipping from any store is a demanding process that requires a robust infrastructure, including shipping label printers, extensive storage, and designated loading zones for shipping carriers.

However, alternative options, like in-store pick-up or Buy Online Pick-Up In Store (BOPIS), allow these retailers to service a larger customer base without the added expense of serving as a fulfillment center for shipping orders. BOPIS also creates opportunities for retailers to upsell their customers when they walk into the store to pick-up their online order.

To prevent automatic routing and allocating shipping of orders to a particular location, Shopify retailers can use the NetSuite feature that allows them to disable the Automatic Location Assignment Allowed option for a given store location. Retailers can also enable the Allow Store Pickup option for this same location simultaneously, which allows customers to pick-up their orders there. However, even if a location has opted to disable ALA Allowed and has only enabled the Allow Store Pickup option, Celigo does not take these configurations into account nor can it calculate consolidated ATP inventory.

As a result, when Celigo pushes inventory for the corresponding location, it becomes eligible for online sales on Shopify. This gives Shopify the wrong inventory availability information, which again leads to inventory discrepancies, causing overselling, canceled orders, and lost profits.

D. Configuring items for Store Fulfillment
Not every product is suited exclusively to either in-store pick-up or fulfillment. This requires a unique configuration and demands total visibility in Shopify. Some items must be excluded from store pick-up or fulfillment. Let's take a closer look at these two cases:
Case 1. Disabling Store Pickup
While there are plenty of heavy and bulky products available to in-store shoppers, these items are not feasible for online shipping fulfillment, including large furniture pieces, appliances, fitness equipment, mattresses, and oversized or heavy machinery. Not every customer understands the nuances of online shipping. They may not be aware of the size of the product they are ordering or the retailer's capabilities. So, it is best to simply disable the in-store pick-up option to avoid all confusion and inadvertent empty promises.
Case 2. Disabling Store Fulfillment
Sales orders including standard items with a special service value add-on (like personalized jewelry and prescription eyewear), should only be dispatched from warehouses after they have been prepared as they cannot be readily available for store pick-up or shipping-from-store. These items must first be customized before they can be shipped.
To achieve these outcomes, Shopify retailers can use NetSuite's functionality by disabling the Allow Store Pickup option for specific products at a given location. This ensures exclusion of these items from store pick-up while still accepting orders for eligible products at the same location. Similarly, by disabling Automatic Location Assignment Allowed for a product at a specific store location, store fulfillment for that product can be entirely disabled. However, it's important to note that Celigo cannot filter orders to exclude certain products from store fulfillment, and its role is primarily focused on pushing eCommerce orders to NetSuite. Additionally, Celigo syncs each product's inventory from NetSuite to Shopify for every fulfillment location, making it challenging to explicitly exclude certain available products from pick-up.

Consequently, Shopify retailers utilizing NetSuite with Celigo integration may end up receiving store pick-up and shipping orders for products that are not eligible. This limitation prevents leveraging item-level configurations for store fulfillment, resulting in canceled orders and suboptimal order fulfillment practices.
HotWax Commerce OMS: A Solution to Inventory and Order Management Challenges
HotWax Commerce Order Management System (OMS) helps Shopify retailers overcome the challenges of Shopify and NetSuite integration for omnichannel commerce by fully optimizing inventory and order management processes. The OMS syncs inventory data from NetSuite ERP, Shopify POS, and WMS to calculate the ATP inventory. It then consolidates the ATP inventory for products across all locations and regularly updates inventory counts in Shopify.

HotWax Commerce OMS grants Shopify retailers granular control over their inventory and participating fulfillment locations. Retailers can effortlessly enable or disable these locations with a simple click, allowing for precise control. Additionally, the OMS ensures that inventory from locations that are not part of the online fulfillment is excluded from the consolidated inventory count. However, if a store location is accepting pick- orders, it will still receive them.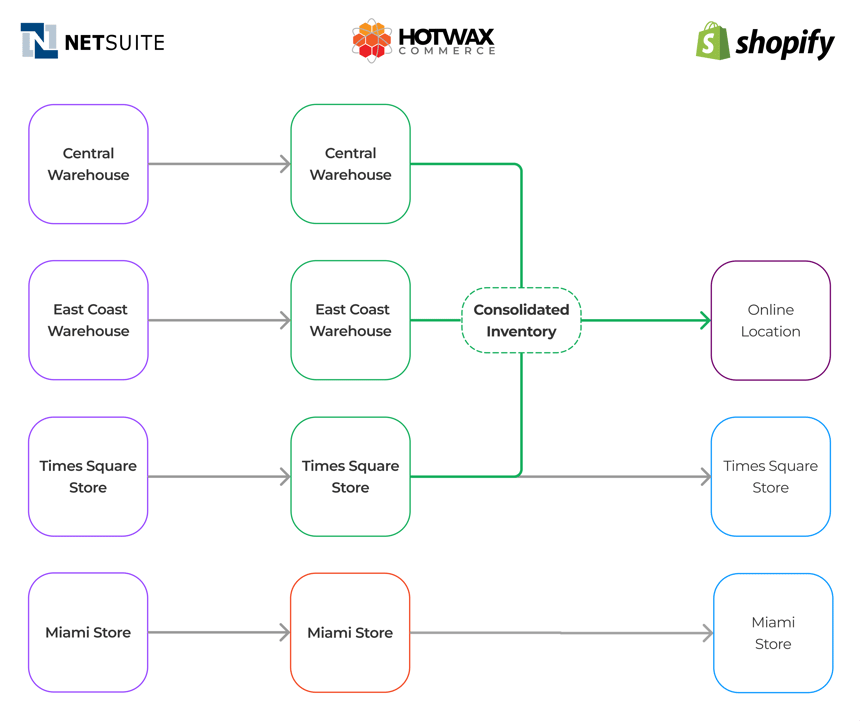 Fig 1. Consolidated inventory for locations allowing shipping orders and abstracted inventory for store locations
* * *
HotWax Commerce's smart order routing automatically assigns incoming orders to the most optimal fulfillment location which are then pushed to NetSuite for fulfillment. In conclusion, a robust OMS like HotWax Commerce is a more effective solution for Shopify NetSuite integration for omnichannel commerce than the integration platform Celigo. It addresses the challenges where Celigo falls short and provides a comprehensive solution. Contact our team today to learn more about HotWax Commerce OMS.