Unified Commerce is taking hold of the retail industry on a global scale. According to the 451 Research Global Unified Commerce Forecast, digital commerce's share of business-to-consumer sales will increase from 10.2% in 2018 to 17.3% in 2022. Retailers today must be ready to take advantage of all the channels and devices where customers are most active to gain a larger piece of this $5.8 trillion pie.
In a previous blog, we discussed the role that Unified Commerce has in enhancing the customers' shopping journey from product discovery to purchase. Need a quick refresher? Unified Commerce enables retailers to support buyers' habits across multiple channels such as mobile, web, social, and even physical stores. But this overview is just scratching the surface of what makes Unified Commerce important to a brand's success. There are other factors at work that can take your company to new heights.

What your business really needs are channel-agnostic technologies that integrate easily with your tech stack and can be deployed to your customers. But what are these channel-agnostic technologies and how do they work in delivering a Unified Commerce experience? Ask and you shall receive. In this blog, we'll discuss the Omnichannel Commerce Cloud and how it can help your business deliver on the promise of Unified Commerce.
The 4 Customer Buying Life Cycles
Before diving into the Omnichannel Commerce Cloud solution, let's first look at the different stages of the buyer's life cycle. Conventionally, retailers looked at customer experience in a piecemeal fashion. They deployed technologies that were designed to work for a single channel, but in today's fast-paced retail industry, these businesses struggle to keep up with changing customer demands.

Today's consumers use multiple devices and channels during their purchasing journey, and retailers must use platforms that support each and every step. Your company must be able to support initial product discovery, evaluation, purchase (online or in-store checkout), delivery (pick up from store or home delivery), and customer service (returns). It's time to dive into these different buying stages and the steps they take across the channels and devices in each of these phases.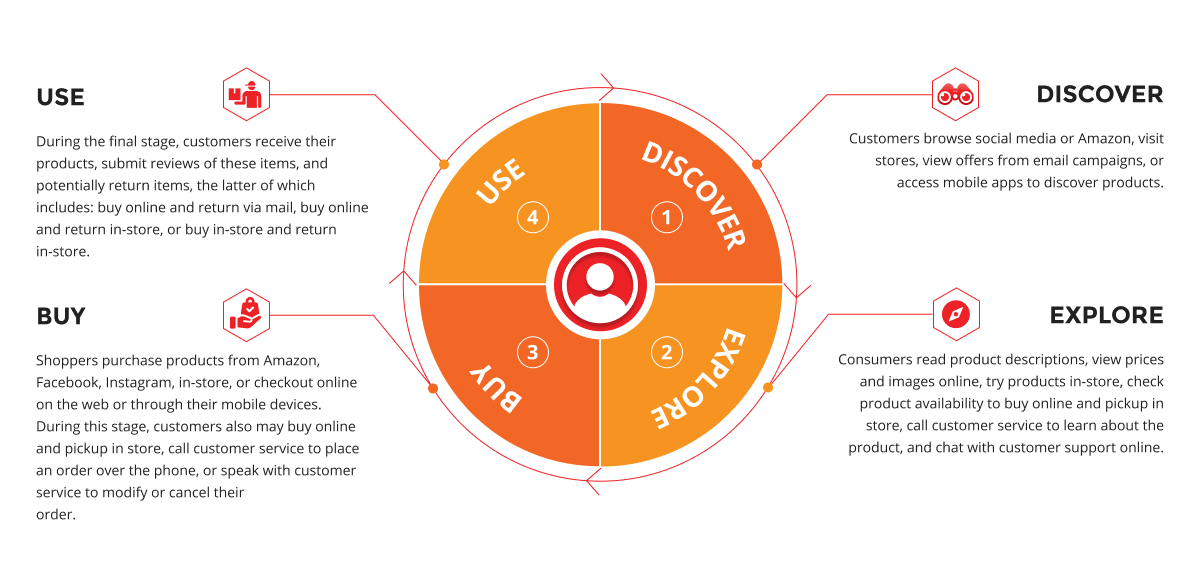 Discover: Customers browse social media or Amazon, visit stores, view offers from email campaigns, or access mobile apps to discover products.

Explore: Consumers read product descriptions, view prices and images online, try products in-store, check product availability to buy online and pickup in store, call customer service to learn about the product, and chat with customer support online.

Buy: Shoppers purchase products from Amazon, Facebook, Instagram, in-store, or checkout online on the web or through their mobile devices. During this stage, customers also may buy online and pickup in store, call customer service to place an order over the phone, or speak with customer service to modify or cancel their order.

Use: During the final stage, customers receive their products, submit reviews of these items, and potentially return items, the latter of which includes: buy online and return via mail, buy online and return in-store, or buy in-store and return in-store.
During these four stages, customers can take multiple steps across different channels. Let's take a look at how consumers may experience cross-channel buying journeys:
Customers may visit an online website and discover new products, checks the products' availability in a nearby store, and finally visits that physical location and purchases the items.

Shoppers may visit a store and like a particular product and scan the item from the retailer's website using their phone to add to their wishlist. They may return home and receive a promotional offer a few days later, and buy the product from their phone.
These are just some examples of how the customer journey can occur across multiple channels and devices. Your ultimate goal should be to deliver a unified, continuous experience throughout the entire buyer cycle. If you fail to keep your end of the bargain and deliver a disjointed experience, you'll soon find your customers taking their business to your direct competitors, and you don't want that, right? Luckily for your company, there's help on the horizon.
Omnichannel Commerce Cloud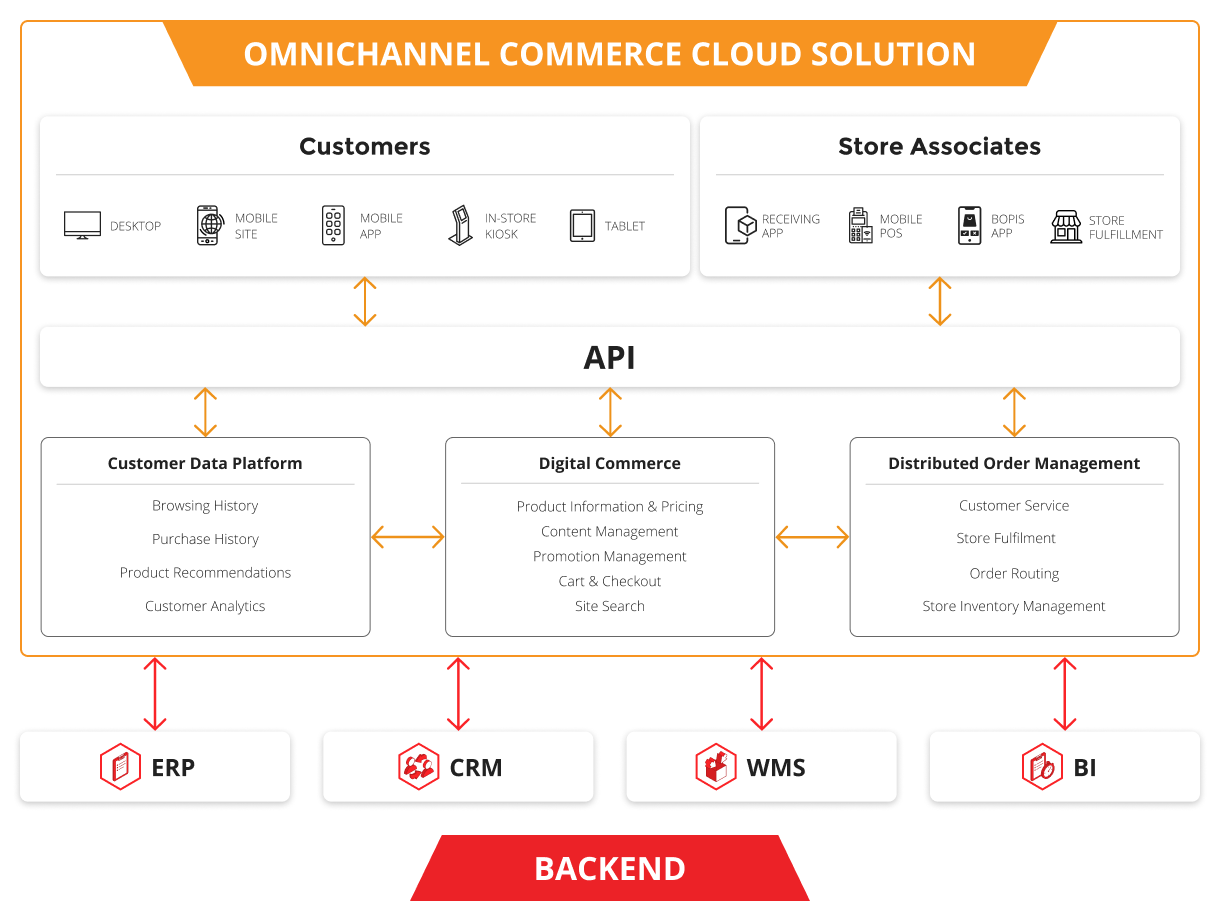 If your company has struggled to implement a unified commerce experience for your customers, an Omnichannel Commerce Cloud solution is exactly the help you need. This suite of pre-integrated technology and cloud-based applications enable your brand to transform your business through Digital Commerce, Distributed Order Management (DOM), and Customer Data Platforms.

Modern Digital Commerce technology has an API-First Headless Commerce engine with pre-integrated apps such as customer-facing, mobile-first eCommerce websites, in-store mobile point of service (POS) apps for store associates to personalize the shopping experience by capturing orders for out-of-stock products, and customer-facing in-store kiosks.

Digital Commerce powered by eCommerce sites and in-store mobile POS systems deliver progressive experiences for consumers across both digital and physical channels. For example, when registered customers add products to their eCommerce shopping carts on a retailer's website and then switch to a mobile app, they will see the same items in their mobile carts. When these same shoppers enter a physical location, the store associates can access their browsing history and eCommerce cart on a mobile POS solution and complete the order process right then and there.
A DOM platform is the heart of a successful omnichannel experience, enabling retailers to create a single view of inventory across storage locations to take advantage of multiple fulfillment options. Think of the Buy Online Pick-Up In Store (BOPIS) model. Some of the pre-integrated in-store applications within a DOM include:


Store fulfillment web apps to help associates accurately and effectively fulfill online orders from stores.
In-store mobile apps to receive inventory in the store.
In-store inventory counting mobile apps to count inventory and log variance.
DOM also offers an interface for customer service teams to view orders across all the channels. They can also modify and cancel these orders based on various business rules.
The final piece of the Omnichannel Commerce Cloud trifecta is the Customer Data Platform (CDP). CDP platforms capture customers' browsing data and purchase history from eCommerce websites and In-Store Mobile POS applications to create a unified view of consumers' past behavior to deliver a more personalized experience across multiple channels.

For example, CDP feeds product recommendations, purchase history (online & in-store) to eCommerce websites so that customers receive personalized and consistent experiences when they browse an online site. Similarly, CDP provides product recommendations, purchase history (online & in-store), online browsing history of customers to the Mobile POS application so that store associates can deliver a personalized and engaging experience to walk-in customers.
* * *
If you're looking for ways to provide a seamless experience to your customers, look no further than the Omnichannel Commerce Cloud. By integrating with existing tech stacks such as enterprise resource planning (ERP), warehouse management system (WMS), customer relationship management (CRM), and business intelligence (BI) systems, it'll be a smooth flight toward delivering a unified, continuous experience throughout the entire customer journey as consumers move between channels and devices.

In this blog, we only highlighted a few examples of how Omnichannel Commerce Cloud can help unify the cross-channel customer journeys. If you're thinking about starting your own Unified Commerce project, your next step is to study your customers' behaviors and find the most common customer journeys and identify the inconsistency in their experience. And then deploy an Omnichannel Commerce Cloud solution to remove the inconsistencies.

HotWax Commerce offers Omnichannel Commerce Cloud solution as a service. Contact us today to learn how we can jumpstart your Unified Commerce initiative.