Marketing is one of the largest investment areas for direct-to-consumer (D2C) retailers, and for good reason. Brands spend millions of dollars on paid advertising to bring traffic to their website, with the objective of converting that traffic into revenue. This conversion rate is of chief importance, particularly as the cost of paid advertising continues to climb, leading many retailers to scrutinize their website experience.
Lots of factors contribute to eCommerce website conversion rates: website speed, user experience, site design, image quality, product descriptions, product availability, product recommendations, and the list goes on. But, above all, customers expect a smooth, user-friendly shopping experience accompanied by fast and free delivery. According to Statista data, 50% of customers are more likely to make a purchase if the delivery occurs within a week, preferably the next day. It's no surprise, then, that retailers are fighting high cart abandonment rates with convenient same-day and next-day delivery options.
Conventionally, warehouses and dedicated fulfillment centers were used to fulfill online orders. But, if they want to meet customer expectations, retailers must accept that the future is in bringing the store to the consumer – leveraging store inventory to promise fast and convenient delivery. Order Management Systems (OMS) play a crucial role in helping Shopify omnichannel merchants achieve just that.
In this blog, we will dive into what it means to bring a store to the consumer, how an integrated OMS allows you to promise products available in stores, and how this ultimately drives conversions and revenue in your Shopify omnichannel commerce strategy.
Category Detail Page
The internet has fundamentally changed the buying journey. Shoppers do their research online before visiting a store and rarely wander the aisles without a specific purpose. They often start their shopping journey online, with plans to buy online and pick up in-store (BOPIS) at their convenience.
Therefore, it has become essential for retailers to provide complete access to their in-store products on their mobile and desktop websites, because this is increasingly where shoppers are discovering new products and making purchasing decisions. It all starts on the category detail page.
Brands should showcase the products available for immediate in-store pickup starting from the category detail page with "Store Mode." Same-day store pick-up is a key driver of conversions, but you have to make sure customers are aware of this option early in the decision-making process in order to capitalize on the opportunity. "Store Mode" helps customers know if a product is available for pickup even before they get to the product detail page.
Just like size filters help customers browse, "Store Mode" does all the hard work so that customers don't need to keep switching between product pages just to know which products are available at their nearby store.
For example, Zumiez is one of the brands that has successfully implemented Store Mode on their category page: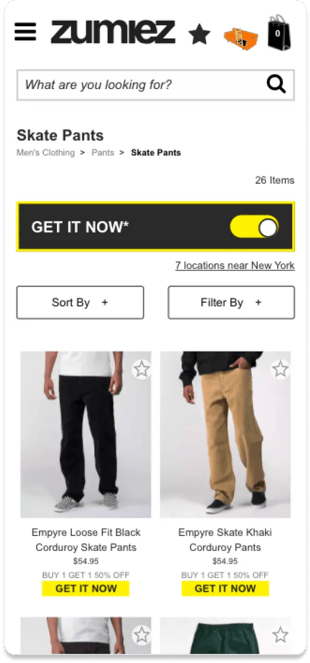 Store Mode on Zumiez's category page
Order management systems help Shopify omnichannel merchants effectively enable "Store Mode" on category detail pages by providing APIs that yield real-time product availability in store locations. HotWax Commerce OMS also offers a Shopify plugin to enable "Store Mode" on the category detail pages of a Shopify merchant's site.
Product Detail Page
The product detail page (PDP) is where online shoppers make their buying decisions and add products to their carts. High-quality images, detailed product descriptions, product reviews and ratings, and fast-loading web pages are table stakes features for your PDP.
But today, retail brands need to go above and beyond these minimum requirements to drive conversions on their site and stand out from the crowd. An omnichannel OMS allows Shopify omnichannel merchants to reinvent their PDP and use it to showcase exactly how and when customers can get their products. The priority is to communicate speedy delivery, demonstrate convenience, and avoid overselling. Here are some ways in which an OMS can help drive conversions on the PDP:
Increasing Product Availability and Reducing Stockouts
Product availability is calculated based on inventory available in the warehouse. Conventionally, if a product is out-of-stock in a warehouse, then sales are lost. Because omnichannel order management systems have inventory visibility across all locations (stores and warehouses), they can accumulate the total inventory and communicate this data to Shopify. This increases product availability, reduces stock-out events, and ultimately drives sales.
Showing Free, Next-Day Delivery Option
Showing free, next-day delivery options on the PDP is a great way to increase the conversion rate of your site. This can be done by asking shoppers to enter their ZIP code and notifying them if they are eligible for free next-day delivery. Since an omnichannel OMS has real-time inventory information from all of your stores and warehouses, it can automatically calculate if the product can be delivered the next day from a nearby store or warehouse using standard ground delivery.
Target shows multiple delivery options, including pickup and same-day delivery based on ZIP codes
Showing Same-Day Product Availability At Local Stores
Another great way to facilitate fast and free delivery for your customers is to showcase products available at local stores for same-day pickup.
An ongoing debate among retailers is whether or not brands should offer free same-day delivery. Most customers can wait a day for items like clothing and apparel. By providing free same-day delivery, brands are in effect driving customers away from stores, which they certainly don't want. With the exception of a few big names, it's also extremely difficult for the vast majority of retailers to make free same-day delivery profitable. As a result, it should only be an option for customers who require products urgently, and these customers should pay a premium for expedited delivery.
Otherwise, BOPIS is a great substitute for free same-day delivery and helps to prevent lost sales. It also increases in-store traffic and saves money on shipping. But for an effective BOPIS strategy, it's crucial to showcase real-time in-store availability for same-day pick up on the product detail page (PDP) because this is where customers make their decision to buy a product. Shopify's native BOPIS apps allow shoppers to choose a store on the checkout page, but this is too late in the decision-making process and causes retailers to lose customers that may have converted if they knew in-store pick-up was an option. HotWax Commerce offers a BOPIS app for Shopify that enables Shopify omnichannel merchants to offer BOPIS on the PDP. The app uses APIs to automatically check real-time product availability at local stores based on ZIP code or city.
Store pickup list on PDP
Accepting Pre-Orders & Backorders
Pre-orders are a great way for Shopify omnichannel merchants to let customers reserve new products and for merchants to gauge demand for a product before committing to production of large quantities. Showing the pre-order button on the PDP with an estimated delivery date helps Shopify retailers drive sales. Similarly, accepting back-orders enables Shopify omnichannel merchants to save the sale if products are out-of-stock but inventory is in transit.
However, listing and delisting products for pre-order, calculating estimated delivery dates based on PO and Advanced Shipping Notification, and uploading the data on Shopify involves a lot of manual work. Your OMS should automate the entire pre-order process, which dramatically reduces the time and cost required. The Hotwax Commerce pre-order app for Shopify automatically enables the Pre-Order button on the PDP, shows the up-to-date delivery date, automatically converts the "Pre-Order" button to an "Add-to-cart" button once the product is available, and automatically converts the "Add-to-cart" button to the "Back-order" button if the product is out of stock and inventory is in transit.
Cart Page
After customers add products to their carts, they often change their minds and alter components of their order, such as the shipping method or the pick-up store location. But once they reach the cart page, customers are forced to return to the PDP to make these alterations. This creates a discontinuity in the shopping experience and may result in a lost sale.
Michael Kors is a great example of how customers can edit product details on the cart page. They can change quantities of the product, the delivery option, and more, without having to return to the PDP.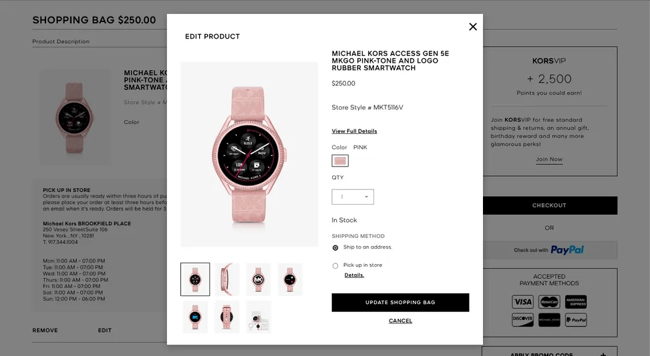 How Michael Kors allows changing order details on the cart page
An OMS shows store availability for pick-up customers and ETAs on the cart page, in case shoppers want to switch their delivery method.
A "mixed cart" occurs when customers place one part of their order for pickup and another part for shipment to their address. Shopify does not allow for mixed cart orders – it yields errors, which results in customers having to place two different orders. This disruption in the check-out process can often lead to lost sales.
But an OMS enables merchandisers to offer mixed carts on Shopify, in which the products that need to be shipped are routed to the warehouse and the ones to be picked up are routed to the store location.
Checkout Page
It is UX best practice for merchandisers to limit the number of modifications that customers can make from the checkout page, as it can lower the conversion rate. With Shopify native BOPIS, if an item is not available in the customer's desired store, the shopper will have to search through an unfiltered list of stores until it finds a location where the product is available.
This user interface works when you have fewer than five stores, but the process becomes cumbersome and frustrating when there are numerous store locations, causing some shoppers to abandon their cart in the final stage of purchase. Every second a user spends scrolling through a list of irrelevant stores during checkout is another step closer to losing the sale.
Because HotWax's OMS and BOPIS plugin for Shopify enables the store pick-up option on the PDP, this messy list of stores is eliminated, reducing the cart abandonment rate on the checkout page and increasing the conversion rate.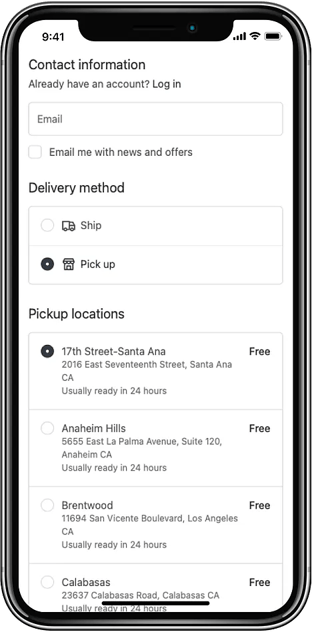 Showing a list of all the stores for pick-up on the checkout page is a big no-no!
Additionally, an OMS checks if items can be delivered from nearby stores or warehouses and notifies customers when next-day delivery is available. Merchants using Shopify Plus can customize their checkout page and update delivery estimates to next-day from the default 2-3 day timeline when applicable, helping to increase sales.
* * *
Capabilities like same-day and next-day delivery, in-store pickup options, and pre-orders are no longer optional for retailers. With more and more customers becoming aware of the multiple fulfillment options in the market, fast delivery and convenience are deal-breakers when it comes to making eCommerce sales.
It all comes back to the importance of bringing the store to the customer. No matter which channel they are using to shop, customers need to experience the same ease and speed of obtaining the products they would if they were in the store. Showing in-store availability on category pages, getting accurate ETAs for same-day delivery, offering pre-orders and back-orders on the PDP, showing store lists for pickup, and zone-based shipping all contribute to an ideal store experience for eCommerce shoppers. Order Management System is the one-stop solution for omnichannel retailers who want to prioritize the customer experience and foster a streamlined shopping experience for all customers.
HotWax Commerce's Order Management System for Shopify has all of these critical capabilities to ensure your Shopify omnichannel operation runs smoothly and exceeds your customers' expectations. Request a consultation with the HotWax Commerce team of experts to learn how we can optimize your Shopify omnichannel strategy.