Offering speedy delivery without additional cost to customers, is a must in today's fierce, fast-paced market. Customers have grown accustomed to free same and next-day shipment–something that e-commerce and major brands can provide. However, due to a lack of distribution networks, only 5% of Shopify D2C stores can meet these expectations.
Let's take a closer look at the benefits of offering free same-day and next-day delivery and how Shopify retailers can achieve this in a cost-effective manner.
The Benefits of Free Same-Day and Next-Day Delivery
Convenience and immediacy contributes to the demand for fast delivery services. In fact, 68% of consumers are more inclined to make an online purchase if fast shipping options are offered. By leveraging this desire for quick reward, Shopify retailers can expect:
Increased Conversions: Same-day and next-day delivery improves the overall customer experience. This can be particularly effective for time-sensitive, high demand items, giving your business a competitive edge. Same-day delivery also reduces cart abandonment rates by assuring customers they can receive their goods faster through your services rather than someone else.
Increased Customer Satisfaction: New customers are more likely to become repeat customers and recommend a retailer to their friends and family if they are satisfied with the overall shopping experience. Fast, reliable and free shipping is an important part of that experience, as it shows customers that the retailer values their time and is committed to providing excellent service.

Additionally, free same-day shipping can help reduce the likelihood of negative customer reviews. If customers are satisfied with the delivery speed and reliability of a retailer, they are less likely to leave negative reviews or ratings, which can be damaging to a retailer's reputation.

Competitive Advantage: By offering free same-day shipping, retailers can demonstrate that they are committed to meeting customer needs and providing a high level of customer service. This can help build a positive reputation and enhance customer loyalty, which can be invaluable for retailers looking to build a strong and sustainable business.
The Challenges of Same-Day and Next-Day Delivery
Shopify retailers have two major methods of shipping at their disposal:
Air shipping: Transporting packages via plane from one location to another. This is the quickest but most expensive shipping method.

Ground shipping: Utilizing trucks and other ground transportation methods to transport packages. This is the most affordable shipping method.
The average shipping time for ground varies, but it typically takes several days, even on the faster end. Logistically, fast shipping with ground transportation is simply not realistic nor affordable. If speed is the priority, then air shipping is vastly preferable. Shopify retailers also face the following problems when weighing the cost-benefit of same-day and next-day shipping:
Cost of Shipping: Shipping carriers charge extra for expedited shipping services such as same-day and next-day delivery, which can significantly increase the cost of shipping for retailers as the cost cannot be passed on to the customers.

Inventory Inaccuracies: Maintaining appropriate inventory levels without overstocking or understocking is crucial to meet customer demand but requires a smart inventory management system. Any error in inventory count can result in delays, leading to dissatisfied customers and loss of business.

Limited/Insufficient Logistics Resources: Offering same-day or next-day delivery for free can be challenging for retailers due to the costs involved in building and managing a delivery fleet, especially if their daily purchase volumes are low. Retailers have a difficult time offering free fast delivery services without incurring high costs. The absence of proper infrastructure or challenging terrain in certain delivery locations may also restrict quick deliveries.
Maintaining profits while offering Free Same-Day and Next-Day Delivery
Retailers can offer quick and free delivery options while remaining profitable by using their existing store networks as fulfillment centers. By fulfilling orders from stores, retailers are able to reduce delivery times and shipping expenses.
Providing quick delivery through store fulfillment is best optimized through the following strategies in Shopify:
1. Enable Same-Day Store Pick-Up Options
With Buy Online Pick-Up In Store (BOPIS), customers can place orders online and pick them up at a nearby physical store the same day, while avoiding added shipping costs, simultaneously improving convenience for both the business and the customer. This strategy requires Shopify retailers to unify their online and physical store inventory to accept online orders for items available in their physical stores.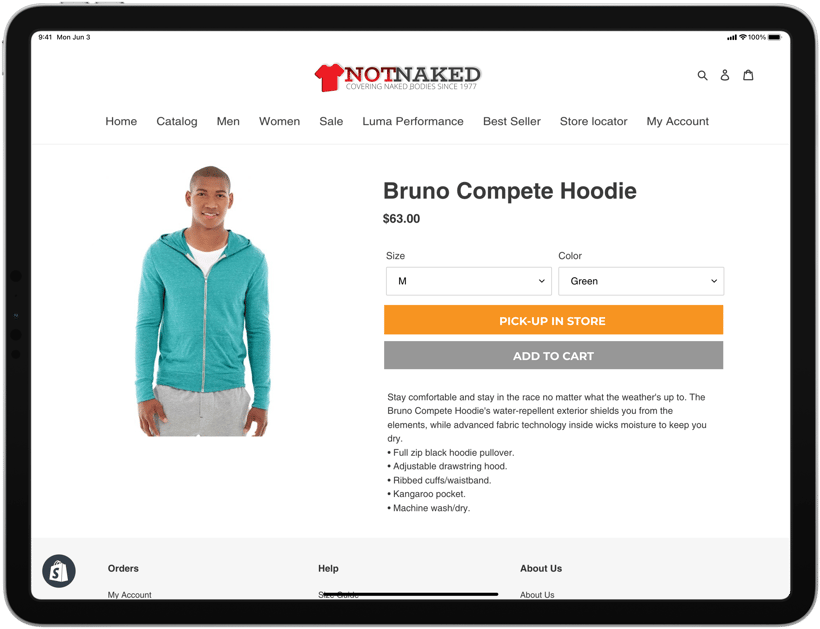 Fig 1: Pick-Up In Store
2. Ship from Local Stores Using Ground Shipping Methods
Routing orders to stores near customers' shipping addresses and using ground shipping methods can save retailers shipping costs while still offering fast delivery options like Shopify same-day or next-day delivery for free. This method relies on a robust inventory management system that helps business managers keep an eye on their store network holistically.
One of the most common approaches to providing same-day and next-day shipping at an affordable rate is to partner with third-party logistics (3PL) companies to handle inter-city deliveries. 3PL companies specialize in streamlining transportation for an array of industries, and they have fleets equipped with the right technology to ensure your goods reach their destination with care. For intra-city deliveries, Shopify retailers can also partner with same-day delivery companies like Shipt.
Regardless of the route, offering free same-day and next-day delivery becomes much easier to achieve when retailers have visibility into their store inventory. This information can also be utilized in Product Detail Pages(PDP) to provide customer transparency, reinforcing brand rapport.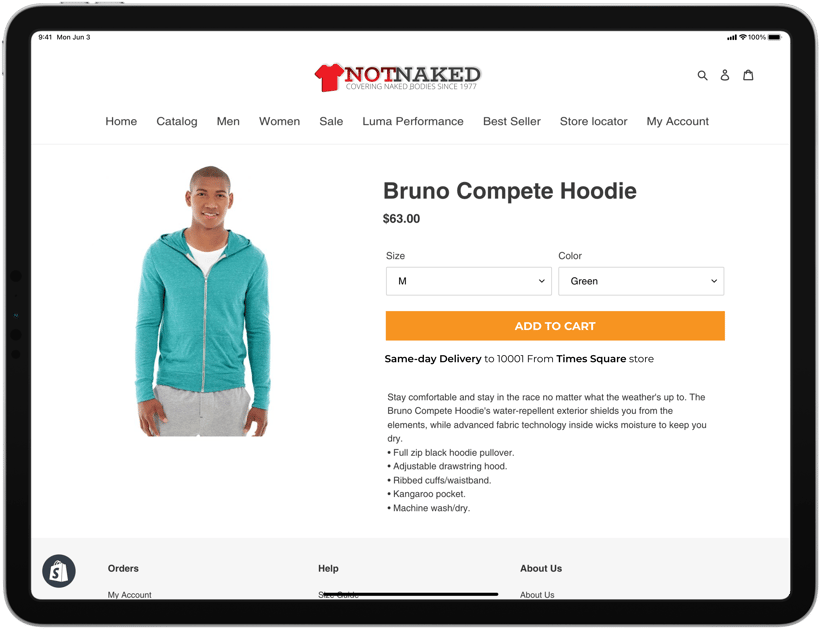 Fig 2: Promise date on PDP
By adopting these fulfillment strategies, Shopify retailers can implement free Shopify same-day or next-day delivery while staying profitable and ahead of the competition.
Achieving Free Same-Day and Next-Day Delivery with HotWax Commerce
Given the high customer demand for free same-day and next-day delivery, retailers need to find ways to ensure a positive customer experience and maintain profitability while they are offering these services. In doing so, a good store fulfillment software can prove to be very helpful.
* * *
HotWax Commerce Order Management System provides Ship From Store and Store Inventory Management software. With these solutions, Shopify retailers will be able to ensure inventory accuracy, optimally route orders to fulfillment centers, successfully fulfill online orders from stores, and also keep track of fulfillment activities. Talk to our team today to learn more about HotWax Commerce order fulfillment capabilities.