In this blog post, we will address the challenges retailers face with Shopify and NetSuite integration when using the Celigo platform. We'll explain why Celigo may not be the best choice for Shopify NetSuite integration and why implementing a robust Order Management System (OMS) is the way to go for achieving omnichannel commerce.
Building upon our previous article, this post explores how HotWax Commerce OMS offers seamless Shopify and NetSuite integration, particularly benefiting retailers looking to expand their businesses and streamline order fulfillment across multiple locations.
We will specifically discuss how HotWax Commerce OMS synchronizes inventory data from NetSuite ERP, POS, and WMS to accurately calculate and update the consolidated "Available To Promise" inventory in Shopify. Furthermore, we'll showcase the capabilities of the smart order routing engine, which intelligently assigns captured orders to the most suitable fulfillment locations based on predefined rules.
By the end of this post, you'll have a comprehensive understanding of why HotWax Commerce OMS is a perfect fit for Shopify and NetSuite integration, enabling you to optimize your omnichannel commerce operations.
Why Retailers Should Choose HotWax Commerce OMS for Shopify NetSuite Integration?
One of the key challenges faced by Shopify retailers is effectively managing inventory across multiple systems, including NetSuite ERP, POS, and WMS. HotWax Commerce OMS addresses this challenge by unifying inventory data from these disparate systems, enabling the calculation of "Available To Promise" (ATP) inventory across all stores and warehouses.
For omnichannel commerce, it is essential to ensure that the entire physical inventory available in stores and warehouses is not made available for online sale. To prevent overselling, it is necessary to subtract any inventory that cannot be committed to online orders. HotWax Commerce OMS takes into account various factors during ATP calculation, such as Reserved quantities, Safety Stock (Buffer Stock), Threshold, Orders in Brokering Queue, and Excluded Facilities' Available-To-Promise (Suspended Fulfillment Locations).
By accurately tracking inventory levels and preventing overselling, HotWax Commerce OMS assists Shopify retailers in maintaining a solid reputation and ensuring timely order fulfillment. This, in turn, fosters increased customer loyalty and encourages repeat business.
Business Cases Where HotWax Commerce OMS Helps Deliver Omnichannel Commerce
1. Maintaining Safety Stock and Thresholds
To effectively manage the available inventory, Shopify retailers can leverage two concepts—safety stock and thresholds. By using these concepts, they can prevent order cancellations due to inventory-related issues.
Safety Stock: When brick-and-mortar stores also participate in the fulfillment of online orders, it's critical to strike a balanced inventory availability for both online and in-store channels.

In HotWax Commerce OMS Shopify retailers can set a safety stock that allows control over how much inventory they promise to online channels. If inventory levels fall below the specified safety stock level, the remaining inventory is reserved for in-store sales. Setting a safety stock also helps retailers minimize the risk of accepting orders they can't fulfill due to inventory discrepancies like damaged inventory, theft, or mismatch count between physical inventory and inventory counts within the system.
Thresholds: Inventory inaccuracy is a common problem in retail which often results in overselling, which can lead to unhappy customers.
In HotWax Commerce OMS Shopify retailers can set an inventory threshold that helps in addressing these inaccuracies and prevent overselling. Unlike safety stock, the threshold is not managed at the store level. Instead, retailers assume inaccuracies and reduce the reported inventory of all products at the company level, then promise the remaining inventory for online sales.
Let's break down this concept with an illustration:
Consider a scenario where a product has a total physical quantity of 300 units, with 100 units distributed across multiple locations.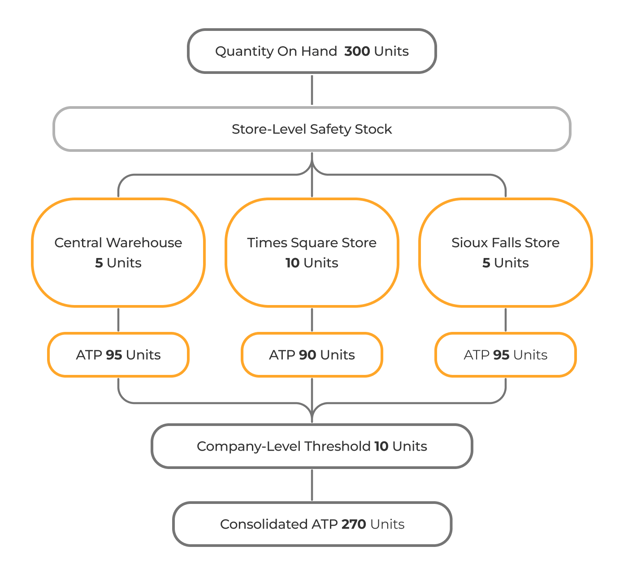 Fig.1. Setting Safety Stock and Threshold
After accounting for safety stock and thresholds, the available inventory for online sales is reduced to 270 units. This ensures that a buffer of inventory is maintained to accommodate unforeseen circumstances while providing retailers with clarity on the inventory they can commit to fulfilling online orders.
2. Temporarily Disabling a Fulfillment Location
When a fulfillment location is temporarily unable to fulfill orders due to reasons such as natural disasters, holidays, or insufficient labor, Shopify retailers can prevent orders from being assigned to these locations by excluding their inventory. This helps avoid the problem of overpromising orders that ultimately need to be canceled.
In HotWax Commerce OMS Shopify retailers can have control over their participating fulfillment locations in two ways:
By setting the Max Order Limit for a fulfillment location to zero in the OMS.


Fig.2. Set Max Order Limit
By Turning Off Fulfillment for a location from HotWax Commerce Store Fulfillment App.


Fig.3. Turn Off Fulfillment Location
Once the issue causing the location to be temporarily disabled is resolved, its inventory becomes available for online orders again.
3. Allowing BOPIS Orders but Disabling Shipments from Stores
The implementation of same-day Buy Online Pick-Up In Store (BOPIS) for in-store pick-up orders is a growing trend in the retail industry. However, it can be challenging for stores located in busy areas with high foot traffic to handle both online and in-store customers simultaneously. To address this, these stores can disable shipments while still allowing BOPIS orders. This strategic approach enables retailers to increase sales by offering same-day pick-up options, which not only boosts conversions but also creates opportunities for cross-selling and up-selling when customers visit the store to collect their orders. As a result, this can lead to higher sell-through and inventory turnover rates.
​​In HotWax Commerce OMS Shopify retailers can manage facility groups for locations. By assigning locations with high in-store footfall only to the "pickup" group, retailers can ensure that these specific locations exclusively receive BOPIS orders. This prevents online orders from being fulfilled from specific stores, allowing the stores to focus solely on fulfilling the BOPIS orders and providing a seamless in-store pick-up experience.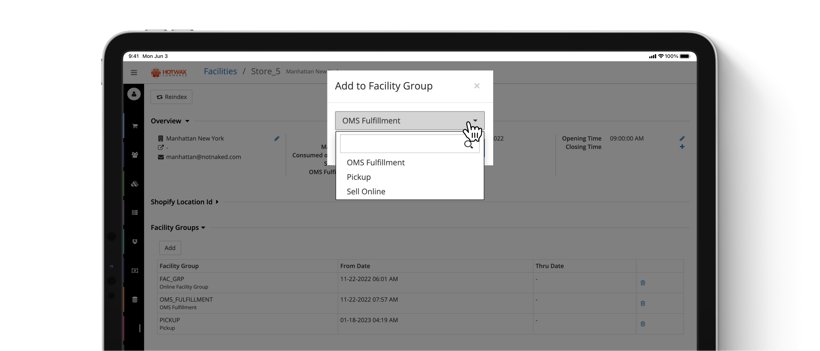 Fig.4. Manage Facility Groups
4. Configuring Products for Store Fulfillment
When dealing with a range of products stocked in different locations, it's crucial for Shopify retailers to consider the suitability of each product for "Ship From Store" or "BOPIS" options. This careful consideration helps avoid issues like order rejections and cancellations.
In HotWax Commerce OMS Shopify retailers have the capability to classify which of their products are eligible for pick-up and shipment from the store. For instance, products that are not suitable for BOPIS can be excluded from pick-up across all stores, while still permitting them to be shipped from the stores (such as heavy or bulky items). Furthermore, if certain products at a store are not eligible for BOPIS or Ship From Store, they can be excluded from store fulfillment altogether, particularly in cases involving customization requests on standard products.
By leveraging the configuration options in HotWax Commerce OMS, Shopify retailers can effectively control the availability of shipping methods for different product types, ensuring a streamlined and optimized order fulfillment process.
Let's illustrate this concept: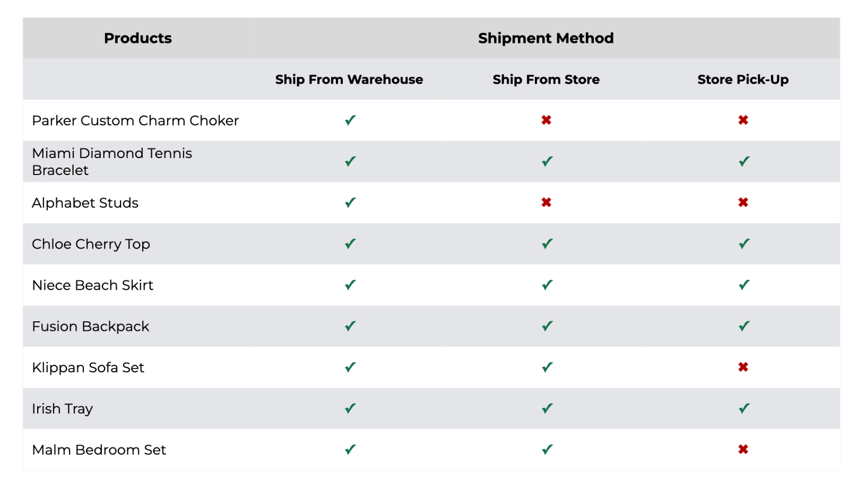 Fig.5. Configuring Products for Store Fulfillment
The "Parker Custom Charm Choker" and "Alphabet Studs" are products with a special service value add-on. As a result, they are only allowed to be shipped from warehouses once they have been custom-made and are ready for delivery.

The "Klippan Sofa Set" and "Malm Bedroom Set" are bulky products that are exclusively available for either Ship From Store or shipment from warehouses. This ensures that these larger items can be efficiently managed and delivered to customers either directly from the store or from the designated warehouses.
How Can Retailers Streamline Shopify and NetSuite Integration with HotWax Commerce OMS?
HotWax Commerce OMS offers seamless Shopify and NetSuite integration. The OMS efficiently syncs inventory data from NetSuite ERP, Shopify POS, and WMS to accurately calculate the "Available To Promise" inventory. This inventory count is consolidated for all locations and regularly pushed to Shopify, ensuring that inventory availability is accurately calculated before capturing sales orders. The OMS also checks inventory configuration rules before accepting orders, further enhancing order accuracy.
To manage order processing, the OMS downloads captured orders from Shopify in periodic batches through a configurable job. While the recommended frequency is 15 minutes, retailers have the flexibility to adjust the job run-time based on their specific seasonality and order volume. The Intelligent Order Routing Engine of HotWax Commerce then brokers and optimally routes all captured orders to the most suitable fulfillment location.
For Shopify retailers who rely on NetSuite ERP for warehouse order processing, the OMS seamlessly interacts with NetSuite's fulfillment suite. When sales orders are brokered and routed to a warehouse location, retailers can utilize NetSuite's capabilities to Pick, Pack, and Ship them.
By leveraging the Shopify and NetSuite integration with capabilities of HotWax Commerce OMS, Shopify retailers can streamline their order management processes, ensure accurate inventory availability, and facilitate efficient fulfillment operations both in-store and at warehouses.
Warehouse Fulfillment by NetSuite and Store Fulfillment by HotWax Commerce
HotWax Commerce pushes all the brokered orders to NetSuite in batches. The batch job in the OMS uploads a feed of all the brokered orders to an SFTP location which is then downloaded and read by NetSuite's scheduled SuiteScript. Once processed, all these sales orders are created in NetSuite under the pending fulfillment status.
Warehouse Fulfillment: Once the warehouse managers have completed the process of picking, packing, and shipping the orders, a scheduled SuiteScript will efficiently transmit the information of fulfilled orders and their tracking numbers to the OMS to mark them as "Complete". The OMS will then update the status of the orders to "Fulfilled" in Shopify and an informative email is triggered to the customers containing their order details.

Store Fulfillment: HotWax Commerce Store Fulfillment App is a go-to solution for executing Ship From Store orders with ease. Thanks to its efficient pick, pack, and ship capabilities, orders can be fulfilled directly from the store without any hassle.
HotWax Commerce offers a range of services including rate shopping from 3PL and generating shipping labels for orders. Once an order has been shipped, it is marked as "Complete" in the OMS. The tracking details, along with the fulfillment status, are then sent to Shopify. Furthermore, BOPIS orders are also forwarded to the store and can be fulfilled by store associates using the BOPIS Fulfillment App. Once these orders are marked as complete by the store associates, their status is updated to "Fulfilled" in Shopify.
It is important to keep the NetSuite ERP up-to-date with accurate information, and therefore all store fulfillment orders are also transferred to NetSuite. The OMS creates a fulfillment record for every order in NetSuite that has been fulfilled in OMS. This ensures that GL accounting and posting can be maintained accurately.
* * *
By offering efficient inventory and order management capabilities for omnichannel commerce, the HotWax Commerce OMS serves as the optimal solution for Shopify NetSuite integration. Contact our team today to explore the benefits of the HotWax Commerce OMS in more detail.